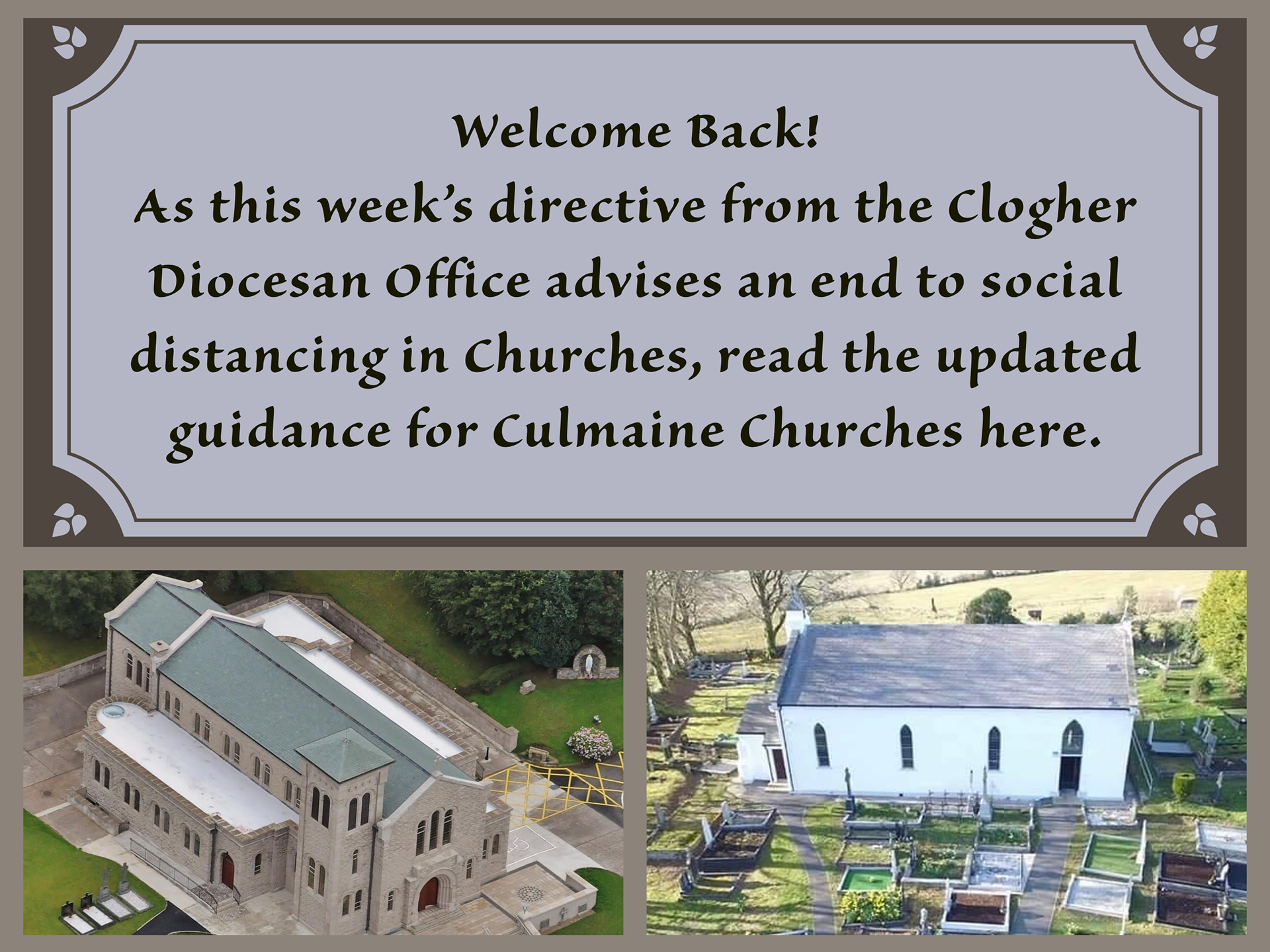 COVID 19 RE-OPENING (STATEMENT BY THE CLOGHER DIOCESAN OFFICE): 
The recent announcements by the civil authorities in both jurisdictions easing the Covid-19 restrictions are very welcome. However, the fact remains that the Omicron variant is still a threat to the health and well-being of the faithful, and so for now we must remain alert to the dangers of unnecessary exposure of our congregations.
Having consulted with priests north and south, the Diocese has agreed that while the social distancing measure in our churches can now be removed, we must still advise our congregations to attend to the safety precautions of wearing face masks and sanitizing their hands on entering the churches. Readers and Eucharistic Ministers should be restored to their Ministries, although we will defer the reintroduction of Altar Servers for the time being. The use of collection baskets is still discouraged, as is the bringing of Offertory gifts to the Altar. The Sign of Peace should not take place during the liturgies. The management of the distribution of Holy Communion should continue to be carefully monitored, to ensure that those who attend our liturgies recognise that the duty of care policies are still paramount in the church.
The placing of Holy Water in fonts at the doors of the churches is discouraged due to the risk of contamination. However, we recommend the sprinkling of congregations on occasions that warrant it, such as on the Feast of the Presentation of the Lord, Palm Sunday and Easter.
We recommend that the traditional blessing of throats should not take place this year, as contact with Blessed candles could be a significant risk. The faithful can of course receive a blessing on the feast of St Blaise.
The traditional distribution of Ashes on the foreheads of the faithful should not take place this year, though the alternative of providing ashes for the faithful to take away with them may be considered.
As we look to the future and the re-opening of our churches, we must continue to ensure that any relaxation of restrictions is in tandem with the decrease in the threat of the pandemic and its variants. As the situation develops, we will revise our guidelines accordingly.
THE PARISH COVID 19 COMMITTEE met on Tuesday night and decided to comply with these recommendations. This means that all the seats of the Church are available for worshippers in both our Churches. People are most welcome to come back to our Churches, but we still urge caution and ask all using our Churches to sanitize their hands when they enter the Churches and to wear face masks while in the Churches. We thank everyone for your compliance with the safety measures and your patience over the past two very difficult years. Also, a special word of thanks to our special Covid 19 Committee, to all who helped with ushering and with the collections and to our sacristans, Eileen Montague and Patsy Monaghan.