Exactly to the day fifty years ago on Sunday April 18th, 1971 a momentous occasion occurred in Culmaine (Blackbog) Parish with the ordination to the priesthood of first cousins, Fr Sean McGrath, and Fr Joe McVeigh both of Moneyvriece, Ederney. Unusual for that era, the ceremony took place in their own home parish Church of St Joseph's.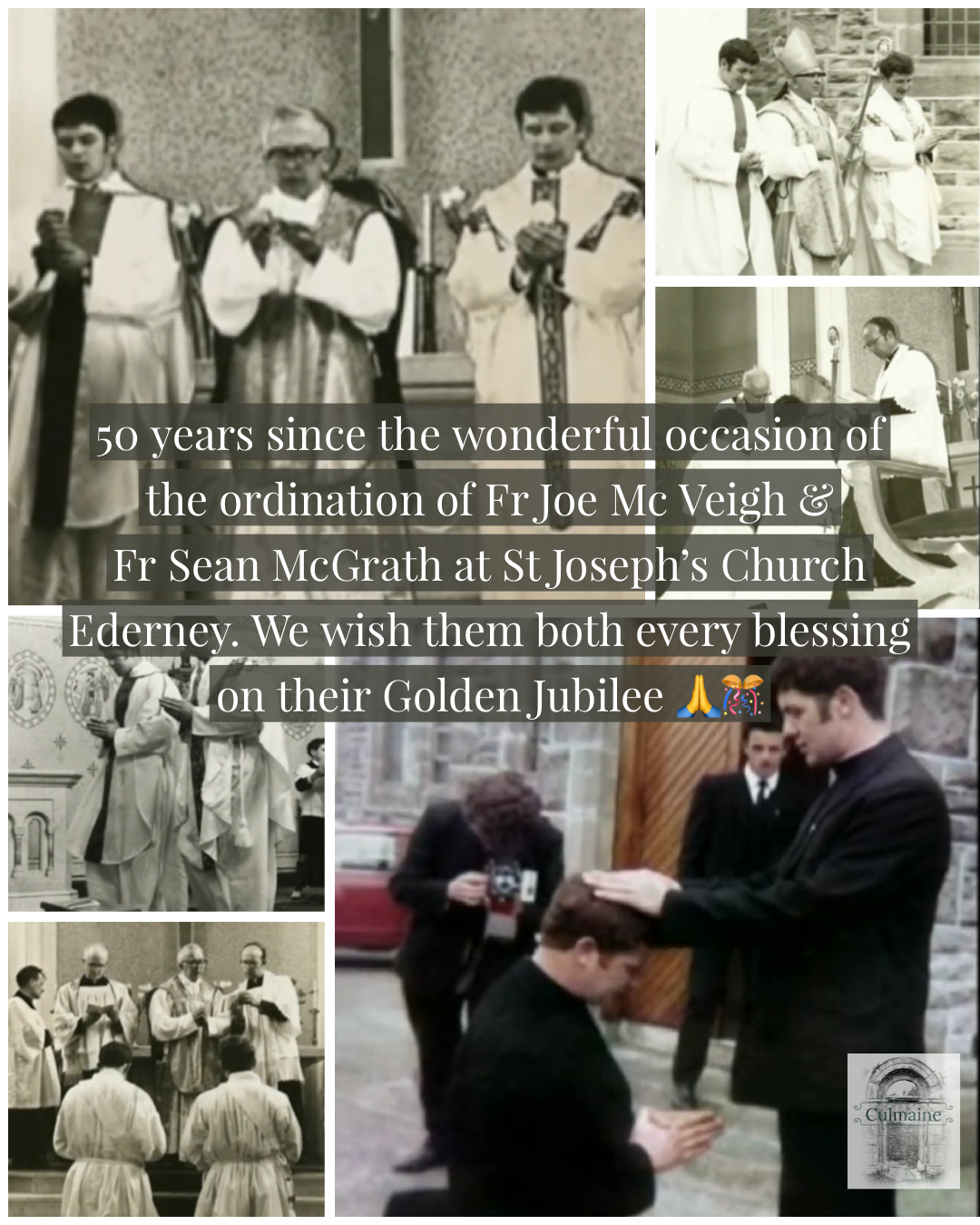 The now Fr Jim Mulligan PP from the same townland was a school classmate of both Fr Sean and Fr Joe and he offered up the Vigil Mass for the 'Golden Jubilee' priests yesterday evening in his Church of St Paul, Harefield in Greater London.
The following text associated with the ordination on Sunday April 18th, 1971 is from original newspaper article published in the Fermanagh Herald on the following Saturday April 24th, 1971 and reads as follows…
𝑫𝑨𝒀 𝑶𝑭 𝑱𝑶𝒀 𝑭𝑶𝑹 𝑩𝑳𝑨𝑪𝑲𝑩𝑶𝑮 𝑷𝑨𝑹𝑰𝑺𝑯
𝑻𝒘𝒐 𝑬𝒅𝒆𝒓𝒏𝒆𝒚 𝒔𝒕𝒖𝒅𝒆𝒏𝒕𝒔 𝒓𝒂𝒊𝒔𝒆𝒅 𝒕𝒐 𝒑𝒓𝒊𝒆𝒔𝒕𝒉𝒐𝒐𝒅.
A bright sun shone on Blackbog Parish on Sunday afternoon as, with solemn ritual in the vernacular, the ordination took place in the beautiful St. Joseph's Church, Ederney, of two young students of the parish, star Fermanagh county footballer Father Sean McGrath, of Moneyvriece, Ederney, and his first cousin, Father Joseph McVeigh, also of Moneyvriece. They are the sons of two sisters, the late Mrs. Eleanor McGrath (née Leonard), who died suddenly last year, and Mrs. Marie McVeigh (née Leonard), natives of Lettercran, Pettigo, just across the county border in Donegal.
Both their fathers, Messrs. Hugh McGrath and Michael McVeigh were present, with Mrs. Marie McVeigh. His Lordship Most Rev. Dr Patrick Mulligan, Bishop of Clogher, performed the solemn ceremony of ordination.
The church was filled to overflowing with relatives and friends, and representatives of every family in the parish, as well as surrounding areas. The relatives included the almost ninety-year-old Mr. Jos. McVeigh, grandfather of Father Joseph McVeigh.
Many young priests were present who were fellow students of the ordinands. One was Father Hugh McAteer, C.C., Omagh. son of Mr. Eddie McAteer, President of the Nationalist Party, who was a fellow student in Maynooth of Fr Joseph McVeigh, who was ordained for the Clogher Diocese, and another Father Patrick Connolly, ordained the previous Sunday at Kiltegan, where he was fellow student of Father Sean McGrath.
Father McGrath will be leaving shortly for the foreign mission In Nigeria. For many years past there has been only one Kiltegan priest from Fermanagh, Father Seamus Reihill from Irvinestown, stationed in Scotland. On Sunday Father ReihilI represented the Missionary Society, Kiltegan at the Ederney ordinations, and was one of three Kiltegan priests from Fermanagh, Father Reihill, Father Connolly and Fr Sean McGrath.
Very Rev Michael Olden, senior Dean of Maynooth, represented that establishment, and Very Rev Canon John McElroy, DCL, president of St Michael's College, Enniskillen was also present to represent the college, of which both ordinands are past pupils.
Assisting his Lordship at the ordination ceremonies were very Rev PJ Woods, PP, Ederney, Rev L Dawson, CC, Ederney, and Rev Kevin Cassidy, CC, Monaghan a native of Blackbog parish.
His Lordship was the celebrant of the ordination Mass with the same assistants, and with the newly ordained as concelebrants.
LORD BISHOP'S CONGRATULATIONS
After Mass, his Lordship spoke of the environment in which young people grow up as contributing and probably decisive factor in the making of a vocation. The ordination of two young priests from Blackbog parish in their own parish church was a right and proper tribute to themselves, to their parents, brothers and sisters, and to the entire parish. and his Lordship said he, wished most sincerely to congratulate both families and the parish on such an auspicious occasion for all of them. They all prayed that both young priests would have a fruitful life in God's vineyard.
Afterwards, their parents and relatives, many hundreds of parishioners and friends of the young priests and their families from near and far, receives the first blessing of Fathers Sean McGrath and Joseph McVeigh, and a touching scene was enacted as each newly ordained priest the blessing of each other in the church grounds.
Nuns present at the ordination were Sister Mary Bernadette McGrath, sister of Father Sean McGrath. and Sister Mary Daly. Ederney, first cousin. of Father Joseph McVeigh.
Families of the young priests present waere as follows: Father McGrath's father Mr Hugh McGrath; his brothers (some of them Fermanagh county footballers) Messrs. Anthony Brendan, Leonard, Colm, Ciaran, Tom and Maurice McGrath; sisters, Sister Bernadette McGrath of the Order of Our Lady of the Missions, Chew Magna, Bristol, and Misses Geraldine and Ann McGrath. Fr McGrath's mother died in August last.
Father Joseph McVeigh's parents. Mr and Mrs Michael McVeigh; his brother, Mr Micheal McVeigh; and his sisters, Misses Teresa, Pauline, and Helena McVeigh. Father McVeigh was also a noted Ederney footballer.
Priests also present at the ordination wew: Rev P Lonergan CC, Devenish; Rev MMcGourty CC, Clogher; Rev J Flood CC, Lisnaskea; Rev T Breen CC, Cooneen; Rev J Mullan CC, Enniskillen; Rev T Marron CC, Rosl;ea; Rev G Timoney CC, Derrygonnelly; Rev J McKenna CC, Bragan; Rev M O'Rourke, Professor of Modern Languages, Maynooth; and Rev R Mohan, the Catechetical Institute, Mount Oliver, Dundalk.
The exterior of St Joseph's Church was artistically decorated for the joyful occasion, the highlight being an arch bearing the words: "Go ye therefore and teach all nations." Papal flags were flown from the church grounds and most houses in Ederney village.
Thanks to Leo Mulligan for kindly sharing this article with us.