Fr Frank McManus PP Tel: 028 686 31315
email: culmaine@gmail.com
Parish Office Tel: 028 686 29062
​​​​​​​
Sunday 22nd May 2022​​​​​​​​​​​​​​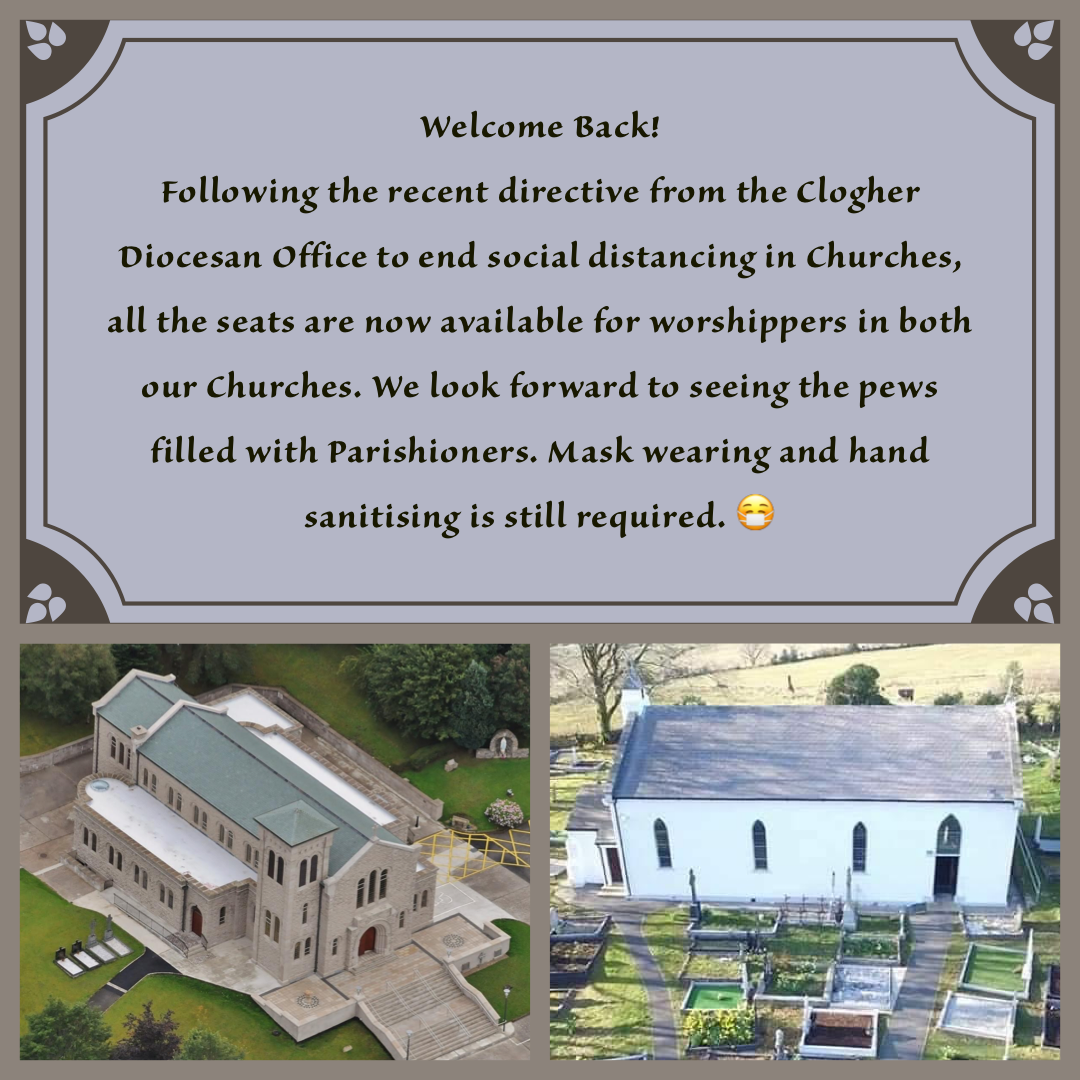 Please wear a Face Mask while inside the Churches.
Please sanitize your hands when entering Churches.
If you are remaining at home you can j
oin in at the times outlined below on Livestream or listen on Parish Radio CB Channel 37 if you are local.
​​​​​​​​​​​​​​
MAY: MONTH OF MARY: Rosary & Devotions in St Joseph's each day @ 6.30pm.
𝗠𝗼𝗻𝘁𝗶𝗮𝗴𝗵 & 𝗟𝗲𝘁𝘁𝗲𝗿𝗰𝗿𝗮𝗻 𝗥𝗼𝘁𝗮:
Please note that Montiagh & Lettercran will follow the Summer Mass Rota as Lough Derg has begun its programme of Summer Pilgrimages.
Lettercran 9:30am Mass 1st, 3rd & 5th Sundays
Montiagh 9:30am Mass 2nd & 4th Sundays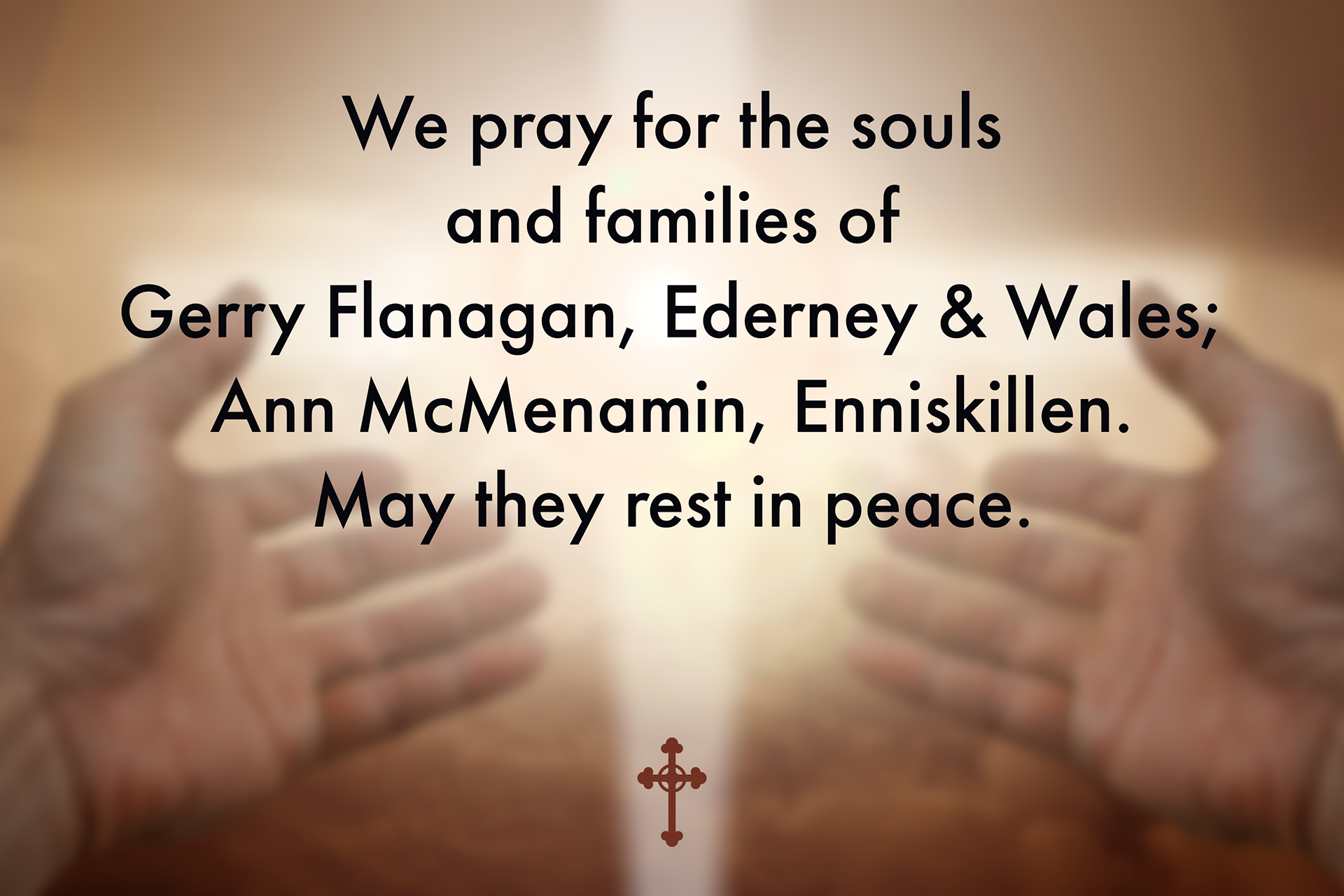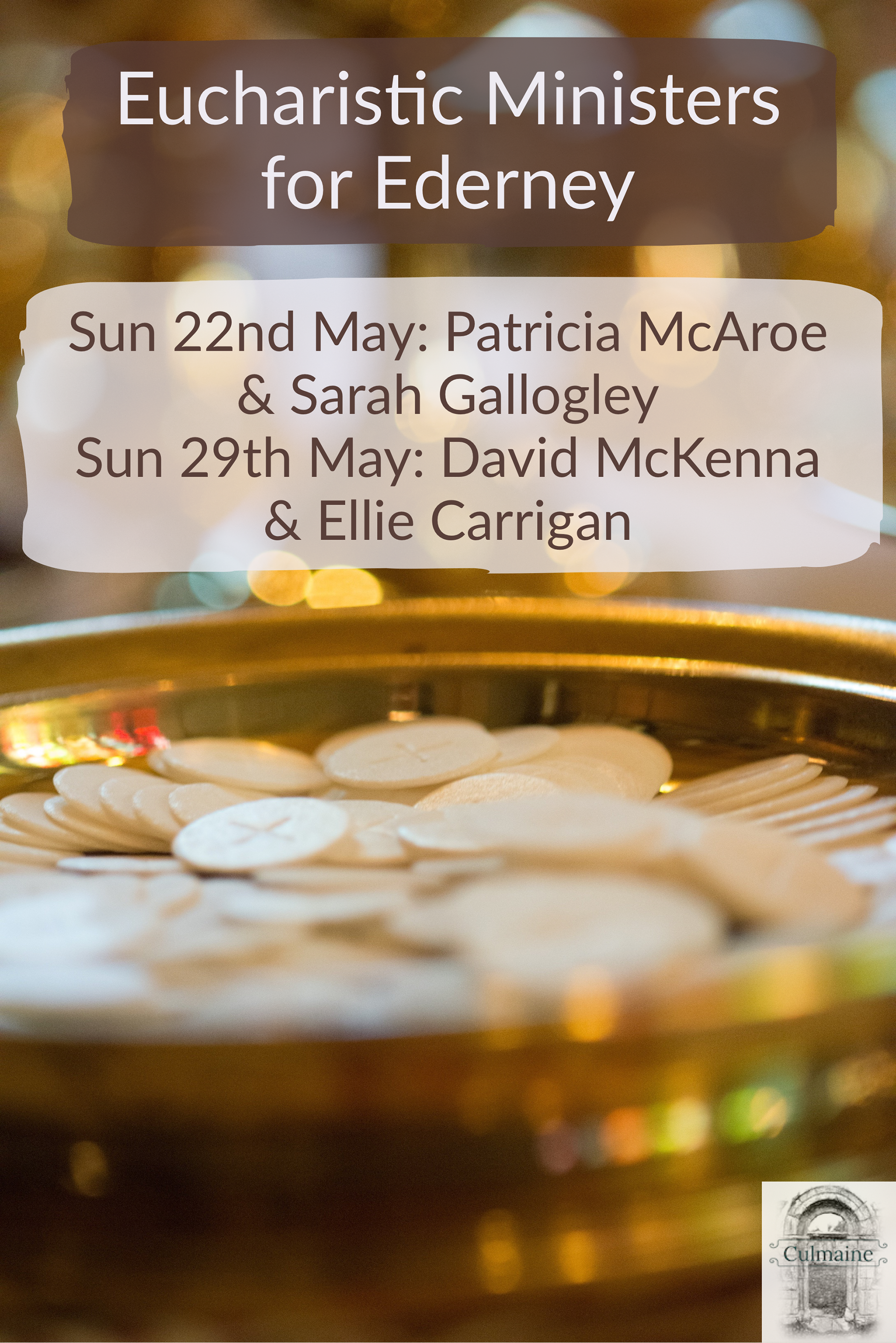 LIVE STREAMING OF MASSES: 
 If there are any problems, please contact Fr McManus or Paul Mongan. 
Sunday 15th May: Weekly £1125; Trocaire £305; Monthly £530.
Thank you for all your contributions. 
You can make your contributions in the same way this weekend by leaving them in the baskets near the entrance and exit doors of the Churches or in the letterbox in the Parish Centre on either Sunday morning or afternoon or on Monday. This is the safest way because the Parish Centre has both an alarm that is always active when there is no-one in the building and CCTV cameras covering all approaches to the Centre, especially the front door. The basket attached to the inside of the letterbox will be regularly checked and all donations will be immediately moved to the safe where they will be kept until they are counted and banked. 
Please do not leave any contributions in the Church or in the Priest's House
DONATING TO PARISH AND CHURCH FUNDS: 
We ask people to use the different colours of the envelopes as much as possible as these are for different funds. Putting all the money into one envelope means that money has to be allocated only to the fund indicated on the envelope.  If anyone has not got a box of envelopes or is new to the parish, please contact Fr McManus. All sterling cheques must be made payable to either Culmaine Parish Church Covenant Account or Culmaine Parish Church Development Account. If you wish to donate to a specific fund such as Trocaire please write the name of the fund on the back of the cheque. Please make Euro cheques payable to Culmaine Parish Account.
If anyone would wish to receive a box of parish envelopes, please contact Fr McManus. You are also welcome to contribute via Direct Debit- Standing Order Forms are available in the Church, Parish Office.
Alternatively, a standing order form can be downloaded below;
See our Facebook newsfeed below for latest updates to Parish and Diocesan news and information:
MONTIAGH : Tuesdays from 11am-12 and 7pm.
SAINT VINCENT DE PAUL: Helpline no 07864726536
To all members of the Fermanagh Area Council of SVP: Fermanagh Area Gathering 
Date: Tuesday 6 September 2022 Venue: The Westville Hotel, Tempo Road, Enniskillen BT74 6HR Time: 7.00pm – 9.00pm (refreshments at 6.30pm)
Congratulations to the 13 boys and girls received Holy Communion for the first time yesterday at a special mass @ 11.00am in St Joseph's. Their names are Luke Donaghy, Kaiden Donnelly, Brian Gallagher, Cian Gormley, Cormac Maguire, Brenna McGrath, Caoimhe McGrath, Finn McMahon, Saoirse Monaghan, Kayden Moss, Bernie Ward, Frankie Ward, and Owen Ward. 
We thank and send our good wishes and prayers to their teachers and support staff, especially Miss Power and to their parents, Godparents, and their families. 
We welcome all who will be joining us today to receive Holy Communion with the rest of our community. 
READERS: Representatives from both Montiagh and Ederney let the Liturgy Group  know that a number of readers have retired in both Churches. We thank these for their generous service over the years. We also appeal for volunteers to read at both Churches. If interested please contact Mena Hegarty and/or John Calgie, Ederney. 
​​​​​​​
LOURDES PILGRIMAGE: The Director and Executive Committee, following consultation, and taking into account all the various concerns, has decided - with much regret - that there will be no Diocesan Pilgrimage to Lourdes in 2022. Those who have expressed an interest in going will be advised to contact JWT who has various dates available. The Lourdes Pilgrimage Committee thank everyone for their interest. We all look forward in hope to the return of our Annual Diocesan Pilgrimage to Lourdes – with the assisted pilgrims - next year.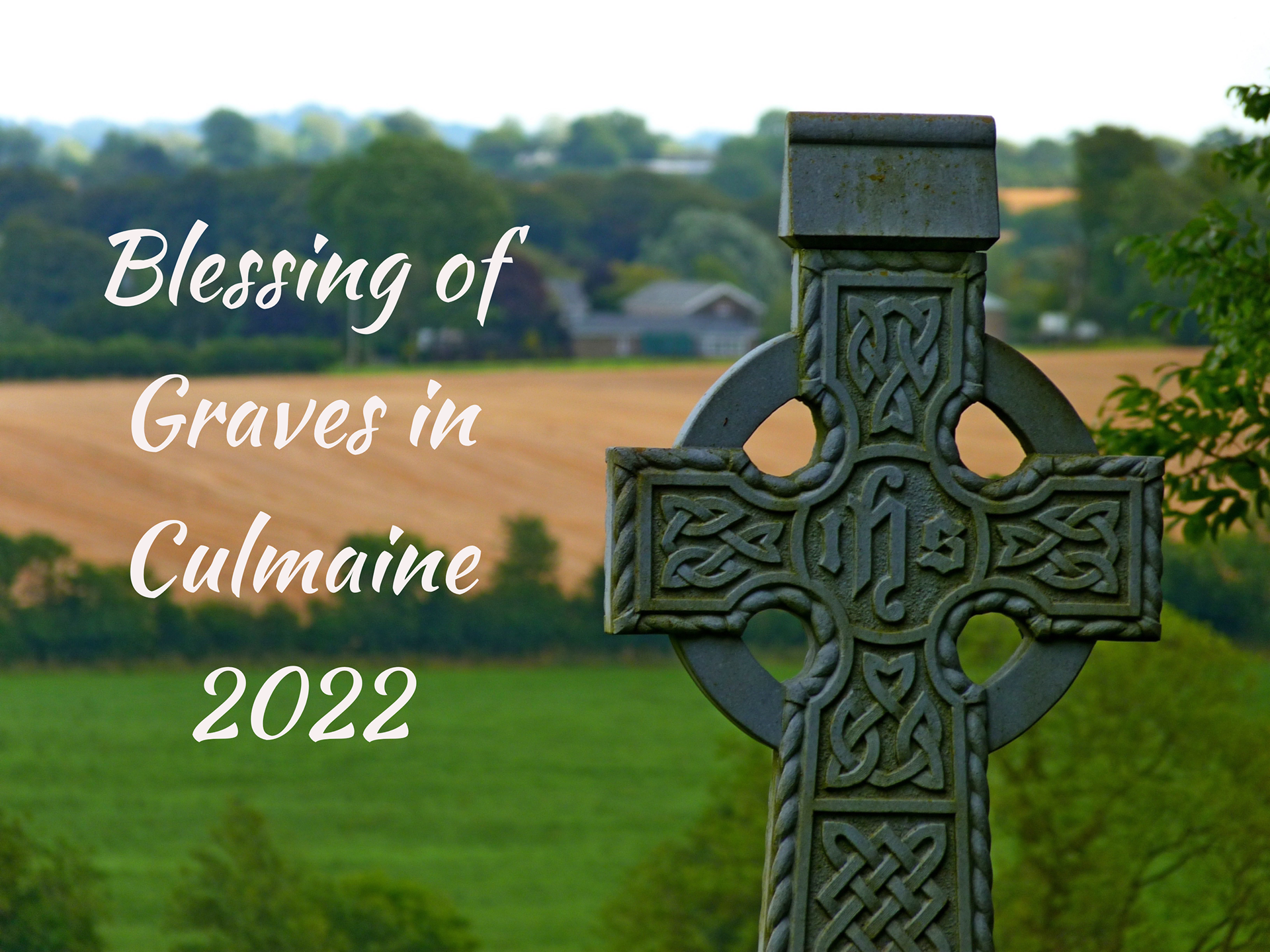 BLESSING OF GRAVES 2022: The Liturgy Group looked at the programme for the Blessing of Graves during the Summer. As we are returning to normal we are suggesting the following dates for the annual Blessing of the Graves in our cemeteries as follows: 
St Mary's Bannagh: Friday 8th July @ 7.30pm (Mass and Blessing)
Edenclaw: Sunday 10th July @ 12.00 noon (Prayer Service & Blessing) 
St Patrick's Montiagh: Sunday 10th July @ 2.30pm (Mass & Blessing)
 "THE MORNING STAR SHINES ON US" - Four reflective Wednesday afternoon sessions on spirituality and the arts via Zoom in June with Sr Magdalen Lawler SND, hosted by Drumalis Pastoral Centre, Larne, will take place on 8, 15, 22 & 29 June from 2:00 pm - 3:30 pm. To register, please email katrina@drumalis.co.uk or phone 028 28272196
A PRAYER BY TELEPHONE: The Sisters of Mercy "Bethany" 34 Point Road, Dundalk 
welcome any person who may wish to request prayer, especially during these difficult times. All requests are confidential. Tel:00353429331602  9am – 9pm Daily. One of the sisters will be happy to Listen and Pray with you.
ROSARY AT THE GROTTOS: The Rosary will be prayed each day during the month of May at hundreds of grottos around the Island of Ireland. To see a list of locations, or to register a grotto (or other suitable location) simply visi

t 
www.coastalrosaryireland.ie  You can also register by texting 087 278 6552.  We are praying for Ireland and for peace in the world.
​​​​​​​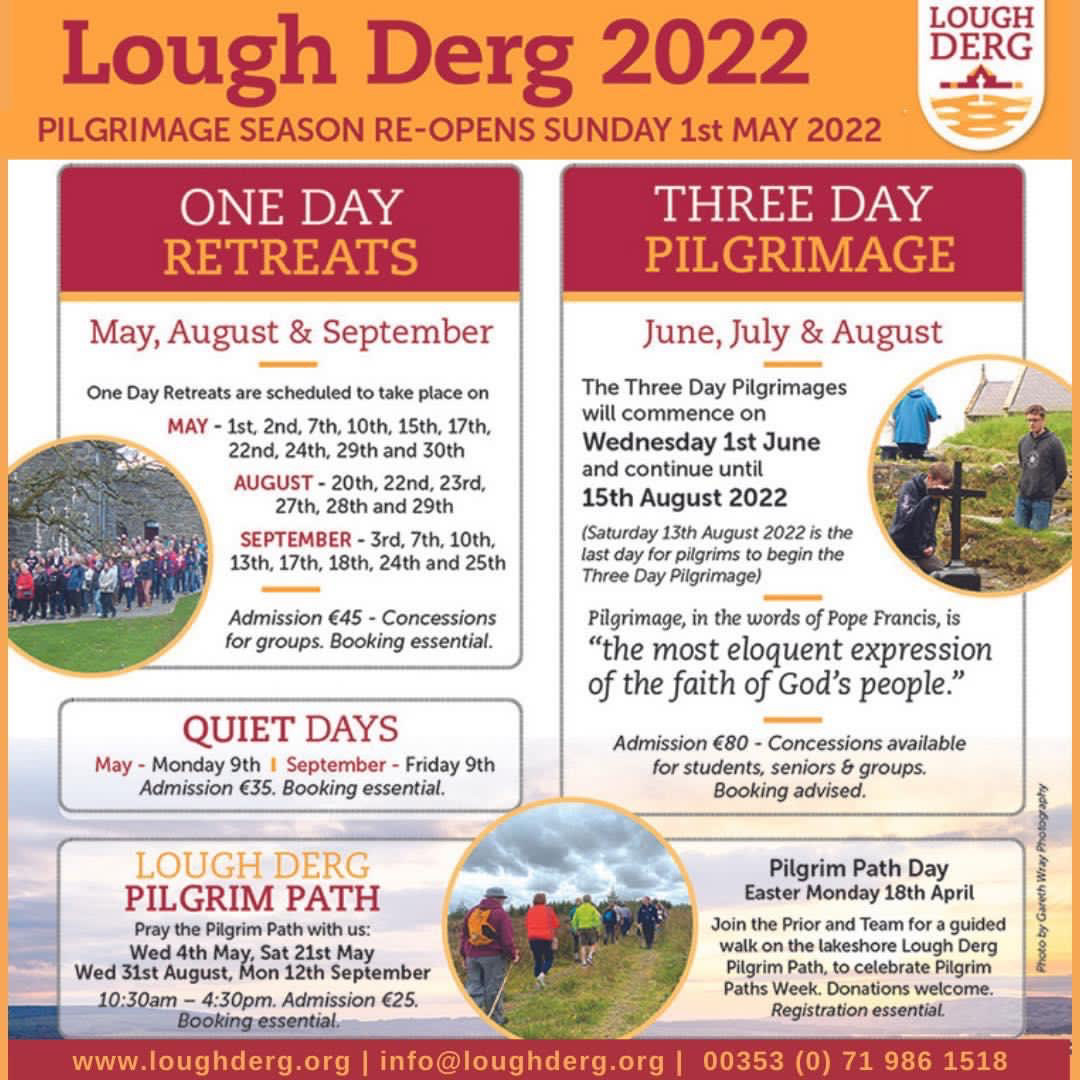 LOUGH DERG RE-OPENS: Lough Derg welcomes Pilgrims again with a full Pilgrimage programme this summer.   Three Day Pilgrimage: 1st June - 15th August. Booking advised. Concessions available for students, seniors, and groups. One Day Retreats and guided Pilgrim Path experience: dates in May and late August through September. Booking essential.  All booking information at www.loughderg.org, email info@loughderg.org or telephone 0(0353) 71 9861518.Lough Derg, Pettigo, Co Donegal, F94 N289.
During May, the month dedicated to Our Lady, we invite you to join us in prayer for the work of Mary's Meals. Each day we are reaching more than 2.2 million children with a nutritious school meal in 20 countries. We ask you to join us in prayers of thanksgiving for 20 years of little act of love that have made this work possible and in petition for God's continued blessing, that through His providence it will continue to grow and flourish enabling us to reach more hungry children. Further information and prayer resources including our new resource for children can be found at www.marysmeals.org.uk/prayinmay 
FORSIGHT ARRIVES IN ENNISKILLEN: 
ForSight is a new chain of charity shops set up in Northern Ireland to fund services for people who are blind or vision impaired and to fund clinical research into sight loss conditions and treatments. Our second shop is now open at 31 Townhall Street in Enniskillen. Pop in and be amazed at the quality of preloved clothes, accessories, and homeware on offer. Shopping in ForSight guarantees helping people who are blind or vision impaired across Northern Ireland as well as helping to save the planet. All donations welcome too. 
BE ALERT: There continues to be fraudulent scams and alerts via telephone calls, emails etc. Please continue to be aware and cautious of any unexpected activity or communication to you and to your vulnerable family members. 
DO YOU OR SOMEBODY YOU KNOW SUFFER FROM AN ADDICTION? YES? 
Join us at the Shrine of Matt Talbot in Our Lady of Lourdes Church, Sean Mc Dermot Street, Dublin on Sunday 12th June at 2:00pm-4:30pm, where we will pray for freedom from addiction through Jesus. This will be a day when Ireland unites in prayer to rid our country from the plague of addiction. For more information, visit www.matttalbotprayersociety.com or contact vita@matttalbotprayersociety.com ROI (048) 71262894
PENTECOST ECUMENICAL PRAYER SERVICE: We are happy to re-commence our recent practice of having an Ecumenical Prayer Service on the Feast of Pentecost; this year on 5 June 2022 at 3pm. This year we return to the Donagh Old Graveyard, just outside Glaslough, Co Monaghan – an ancient Christian site associated with St Patrick and the famous Donagh Cross. Bishops Larry Duffy and Ian Ellis will preside at the Service, and everyone will be very welcome. A shuttle bus service will operate between St Mary's Church, Glennan and the old graveyard. Refreshments will be served afterwards. 
THE ALL IRELAND ROSARY RALLY: Takes place in Knock on Saturday 4th June. Bus Leaving Church Square, Monaghan Town at 8am. Cost of €40 needs to be paid when booking at Wineways, Glaslough St, Monaghan Tel 0035347 72376
BENBURB PRIORY will play host to singing sensation, Fr. Ray Kelly on Sunday 3rd July at 6pm. Fr. Ray became a viral star on YouTube before appearing on Britain's Got Talent. He will play a concert in our hall or outside in the courtyard: Irish weather permitting. Afterwards, he will join us in the Stables café for a meet and greet session. Tickets are available at Benburbpriory.com or in-person at the Priory.
CALLING ALL ADORERS OF THE BLESSED SACRAMENT IN CLOGHER DIOCESE: National Eucharistic Adoration Pilgrimage to Knock on Saturday 18th June (Corpus Christi weekend) Call: 086 827 5437 to enquire or to book a seat.   ­­­­­­­­­­­­­­­­­­­­­­­­­­­­­www.eucharisticadoration.ie  
AN IRISH PILGRIMAGE GUIDE TO THE HOLY LAND
is a new book by Michael Kelly, Editor of The Irish Catholic newspaper which explores the places associated with the life of Christ. Michael, who has led many pilgrimages to the Holy Land, says he hopes the book can also act as an 'armchair retreat' for people who cannot travel to the Holy Land bringing the Gospel to life for them. It is available now from all good bookshops and www.columbabooks.comprice €16.99/£14.9
9
Todays Football 10.00am SFL Ederney Ladies V St Pats; 
12 noon Men's SFL Erne Gaels V Ederney. 
Lotto Jackpot tonight £9750

Wednesday Gaelic 4 Girl's at 6.45pm all welcome.

Fermanagh Ladies fundraising draw first prize 500 litres of home heating oil, 2nd prize tickets to a Man Utd game plus spending money lots of other prizes. 
Tickets £10 each or 3 for £20 available from Dearbhaile Mc Hugh.
AN APPEAL FOR FOSTERING PARENTS: 
With an increase in children and young people needing foster homes across Northern Ireland, we really need you now.
Every child deserves to have a happy, loving and safe home where they'll feel cared for, valued and supported.  It's always the right time for fostering. Call us on 0800 0720 137 or contact us on adoptionandfostercare.hscni.net .
#HSCNIFosterCare #FosterForYourCommunity #CouldYouFoster
​​​​​​​
There is an important change in the law which will enable victims of sexual or physical violence claim. As a result of the 'same household rule,' victims of such violence between 1st March 1969 – 30th June 1988 who lived in the same household as their attacker were unable to apply for compensation. However, the law has changed, and victims now have a short window of time to apply for compensation. Victims must make their application before June 2022, so there isn't much time left.
Victim Support NI offers a free advice and support service to anyone wishing to apply for Criminal Injuries Compensation and can assist anyone who would like to apply to the scheme.
SUPPORT WITH MENTAL HEALTH: 
COVID-19 has impacted on us all; for some bringing new and stressful challenges into our lives for others adding to existing stresses and challenges.  But remember no matter how bad things are for you there is always help available.  Aisling Centre offers a free, confidential and professional counselling service, with a simple self-referral process.  For more information contact 028 66 325811 or email – info@theaislingcentre.com
This is a virtual program of well-being. Tickets can be booked via Eventbrite. For further information visit
www.theaislingcentre.com or contact Aisling Centre on 02866325811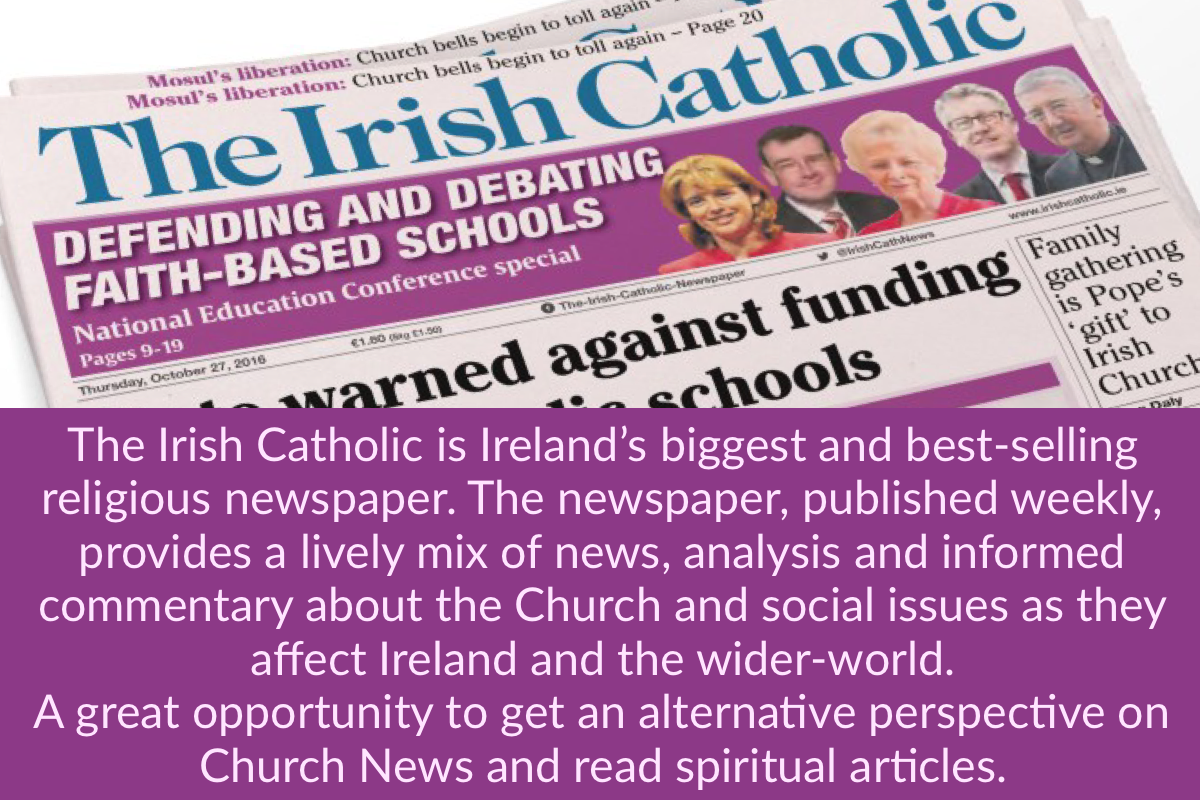 IRISH CATHOLIC & BIBLE ALIVE: These are available in both Churches with articles regarding Church news and reflections on the word of God. Please take a copy: Irish Catholic £2.20; Bible Alive £3.00.   
IRISH CATHOLIC AND BIBLE ALIVE MAGAZINES: 
Over the past few years the parish buys 12 Irish Catholic Newspapers every week and 6 Bible Alive magazines. It is difficult to tell whether these are being paid for and quite often there could up to half of them left over every week or month. In 2022 we plan to bring in a system where people can order in and pay in advance for their Irish Catholic and/Bible Alive. A copy will be reserved with the person's name on the cover. People can pay in advance by cheque or by standing order. There will be 3 further copies of the Irish catholic ordered for those who wish to pay otherwise. The cost of the Irish Catholic is £2.20 per week and Bible Alive is £3.00 per month. This means that the costs will be: Irish Catholic £114.40 for 12 months, £57.20 for 6 months; Bible Alive: £36.00 for 12 months. Please contact Fr McManus if you are interested.
​​​​​​​
SUPPORT LINE FOR OLDER PEOPLE: 
COVID 19 HELPLINE: Please call 08088020020 or text ACTION to 81025/email covid19@advice.
COMMUNITY ADVICE FERMANAGH: Are you experiencing difficulty with COVID 19? Please call Community Advice Fermanagh on 073949271.​​​​​​​
Does someone in your family drink too much? Is it making you lonely and unhappy- causing money problems- creating stress? It might be your partner, child or your mother or father. If you want help- if you would like to share your worries with people who understand because they have had them too- why not get in touch with Al-Anon. For details about your nearest group or any other group that may be convenient please call 028 90682368 or 003531 8732699 or google https://www.al-anonuk.org.uk/
WITH YOU has launched an OVER 50s ALCOHOL HELPLINE which provides advice and support to individuals aged over 50, concerned others and professionals who are worried about their own or someone else's drinking.  Furthermore our over 50s Alcohol Helpline continues to offer an enhanced service for individuals who are considering making changes to their alcohol use.  Our enhanced service provision offers callers up to 4 additional appointments during which Helpline alcohol advisors use evidenced based interventions to support callers to achieve their goals.  This service is available 7 days a week .  The Helpline is open Monday to Friday 12pm-8pm and 10am to 4pm at weekends.  The freephone number to call is 0808 801 0750. To make an online booking for a phone call or video chat, over 50's, concerned others and professionals can access appointments slots by visiting the With You website.
​​​​​​​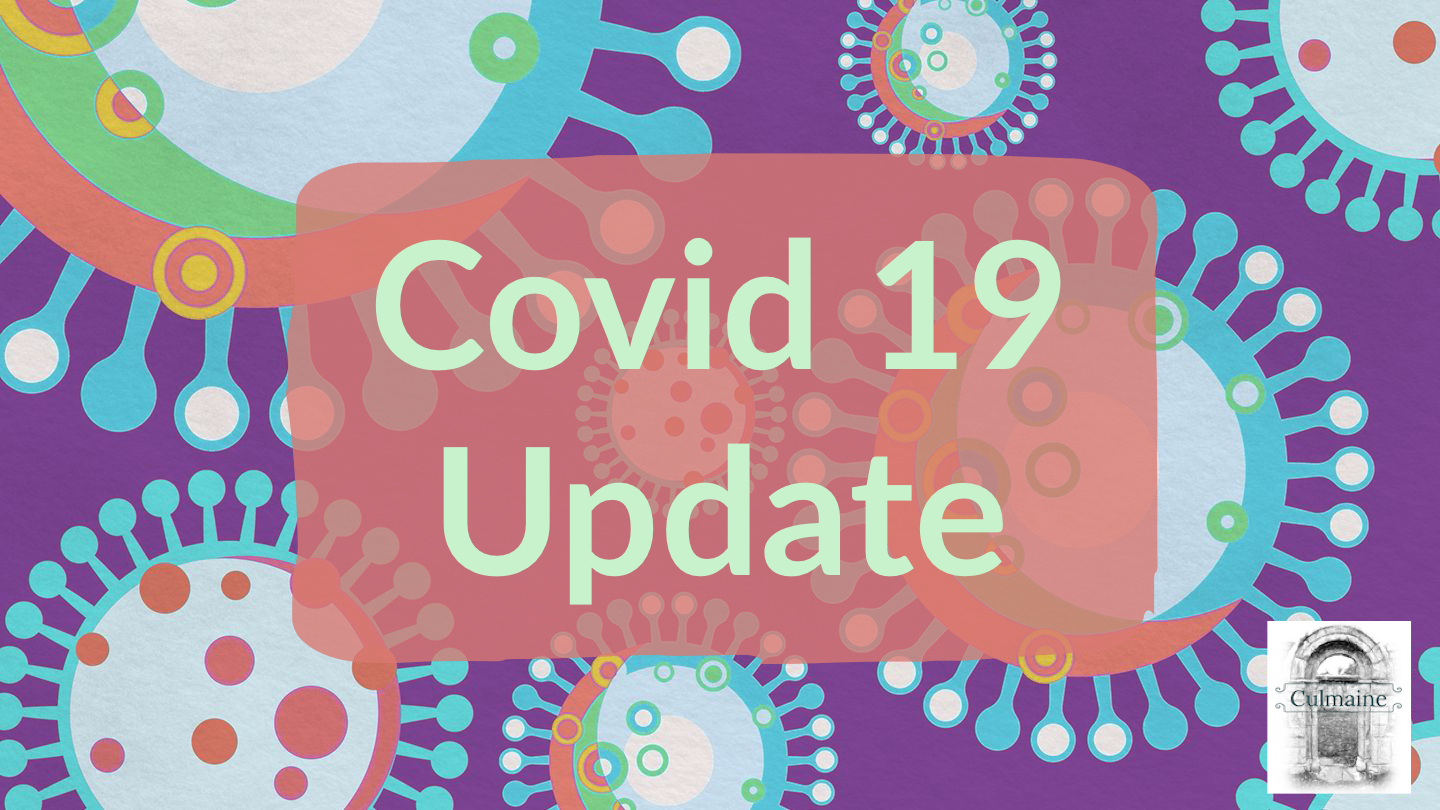 We appreciate our congregation taking the following measures;
These involve keeping your hands washed and sanitized and wearing face masks when in enclosed spaces such as shops and churches. Also avoid where necessary large gatherings and practice social distancing. These especially apply when coming to church. 
Although the Northern Ireland Executive relaxed slightly the rules regarding wearing masks when attending public worship,

we still strongly recommend that people wear masks at all times while in Church. 
Finally, we urge those who can but have not yet received a vaccine to do so as soon as possible. The medical and scientific evidence clearly shows that it is generally much safer to have a vaccination than not to have one. 
The Parish Covid 19 Committee met recently and issued the following statement:
We are very grateful to all the volunteers that have helped out in both Churches, which has ensured a safe return to public prayer and worship. We also express our gratitude to the vast majority of people who have and continue to comply with the rules and guidelines that are in place to ensure the safety and health of all who use our Churches. We urge that people continue to vigilant and act with care and responsibility by continuing to observe the following...
On entering and leaving our churches please sanitise your hands.
The legal requirement to wear a face covering in chapels during Mass has been removed. 

However, our Parish Covid committee strongly recommends that masks are worn throughout the Mass in order to protect yourself and your fellow worshippers.

 Please remember that it still is a legal requirement to wear a mask when entering or exiting the churches or if you are taking part in any activity that is not an act of worship. 
If a person has flu like symptoms, such as sneezing, coughing, high temperature, etc or has been in close contact with someone who has tested positive to COVID 19 please do not enter the Church until your time of isolation is completed. You can access our masses and services on the parish livestreaming facility which you can find by accessing the parish website, www.culmaine.co.uk and click on livestreaming for either St Joseph's, Ederney or St Patrick's Montiagh.
Please co-operate with the Ushers at all times.
Receiving Holy Communion has reverted to its normal time and place during mass. We ask people when coming for Holy Communion and on returning to your seat please wear a face mask and keep a social distance at all times. 
We finally urge the people of our parish to pray for all victims of Covid 19 and for those who are working so hard to save lives and remedy this very difficult pandemic that is affecting people everywhere on the globe.
​​​​​​​​​​​​​​
On 19 March 2021, the Church  celebrated five years since the publication of Pope Francis' Apostolic Exhortation Amoris Laetitia (The Joy of Love) on the beauty and joy of love in the family.
On that day, Pope Francis  launched a year dedicated to the family which will conclude on 26 June 2022 on the occasion of the Tenth World Meeting of Families in Rome. 
​​​​​​​