Fr Frank McManus PP Tel: 028 686 31315
email: culmaine@gmail.com
Parish Office Tel: 028 686 29062
​​​​​​​
Sunday 14th August 2022​​​​​​​​​​​​​​​​​​​​​
Please wear a Face Mask while inside the Churches.
Please sanitize your hands when entering Churches.

If you are remaining at home you can j
oin in at the times outlined below on Livestream or listen on Parish Radio CB Channel 37 if you are local.
​​​​​​​​​​​​​​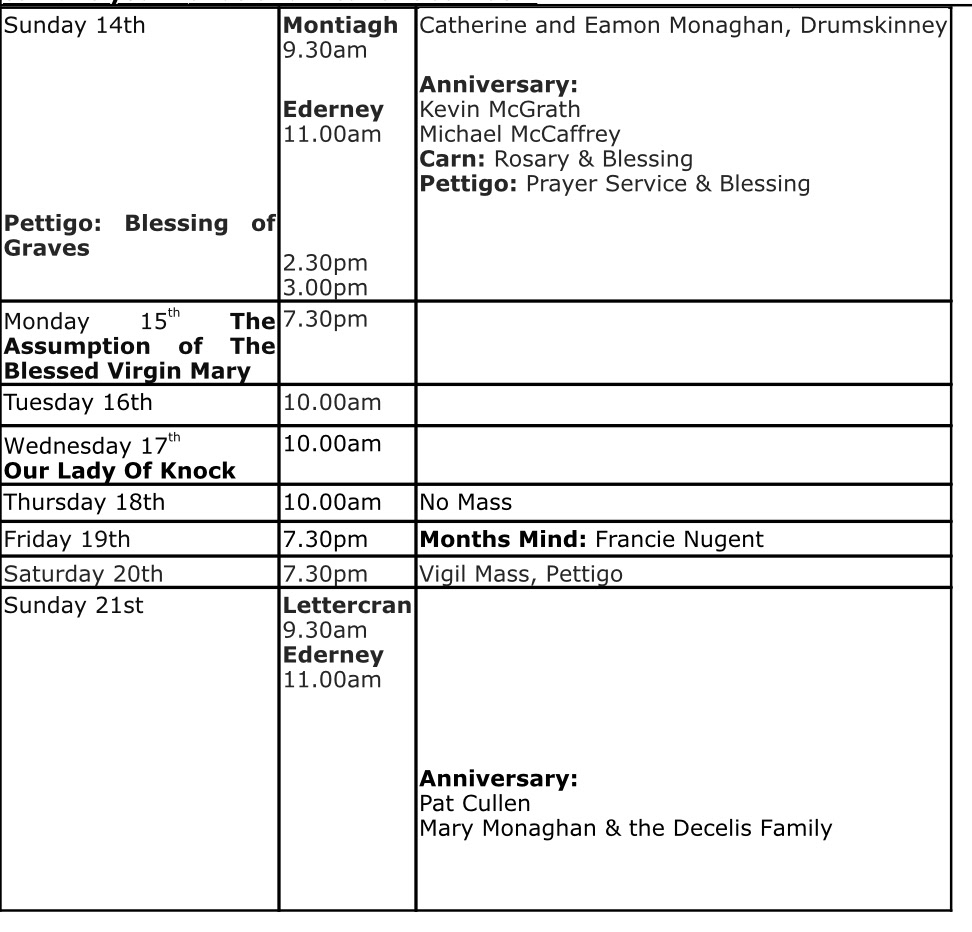 𝗠𝗼𝗻𝘁𝗶𝗮𝗴𝗵 & 𝗟𝗲𝘁𝘁𝗲𝗿𝗰𝗿𝗮𝗻 𝗥𝗼𝘁𝗮:
Please note that Montiagh & Lettercran will follow the Summer Mass Rota as Lough Derg has begun its programme of Summer Pilgrimages.
Lettercran 9:30am Mass 1st, 3rd & 5th Sundays
Montiagh 9:30am Mass 2nd & 4th Sundays
NEW EUCHARISTIC MINISTERS: Today we welcome Rihanna McElhill and Sadhbh McAleer to our parish Special Ministers of the Eucharist Team. They will be commissioned in a short ceremony during today's 11am mass.  
LIVE STREAMING OF MASSES:  If there are any problems, please contact Fr McManus or Paul Mongan. ​​​​​​​
PARISH COLLECTIONS: 
Sunday 7th August: 
Weekly £575; 
Shrines £126    
Thank you for all your contributions. 
You can make your contributions in the same way this weekend by leaving them in the baskets near the entrance and exit doors of the Churches or in the letterbox in the Parish Centre on either Sunday morning or afternoon or on Monday. This is the safest way because the Parish Centre has both an alarm that is always active when there is no-one in the building and CCTV cameras covering all approaches to the Centre, especially the front door. The basket attached to the inside of the letterbox will be regularly checked and all donations will be immediately moved to the safe where they will be kept until they are counted and banked. 
Please do not leave any contributions in the Church or in the Priest's House
DONATING TO PARISH AND CHURCH FUNDS: 
We ask people to use the different colours of the envelopes as much as possible as these are for different funds. Putting all the money into one envelope means that money has to be allocated only to the fund indicated on the envelope.  If anyone has not got a box of envelopes or is new to the parish, please contact Fr McManus. All sterling cheques must be made payable to either Culmaine Parish Church Covenant Account or Culmaine Parish Church Development Account. If you wish to donate to a specific fund such as Trocaire please write the name of the fund on the back of the cheque. Please make Euro cheques payable to Culmaine Parish Account.
PARISH ENVELOPES: 
If anyone would wish to receive a box of parish envelopes, please contact Fr McManus. You are also welcome to contribute via Direct Debit- Standing Order Forms are available in the Church, Parish Office.
Alternatively, a standing order form can be downloaded below;
𝗔𝗱𝗼𝗿𝗮𝘁𝗶𝗼𝗻 will resume in both Churches in September​​​​​​​

SAINT VINCENT DE PAUL: Helpline no 07864726536​​​​​​​​​​​​​​
BONE MARROW DONORS: 
The family of 14-year-old Newry schoolboy Daniel Greer are appealing to people across the island of Ireland to help save his life by signing up as bone marrow donors because a transplant is now his only chance to beat leukaemia.  
Please sign up to check if you are his match: 
COVID 19: 
There has been a resurgence in the number of people contacting Covid over the past few weeks. Thankfully nobody has been seriously ill. However, we still urge people to be very cautious when gathering indoors. When coming to mass or any other Church service please observe the basic safety requirements. Please sanitize your hands when entering our Churches. It is also recommended that people continue to wear face masks for the safety of all in the Church. Remember to be conscious of the safety and good of others as well as yourself and your family.
YOUTH 2000 SUMMER FESTIVAL: Join over 1000 young people between 16 and 35 this August at the Youth 2000 Summer Festival. The festival takes place in Clongowes Wood College, Clane, Co Kildare from Thursday 11th August to Sunday 14th August 2022. For more information and to book your place go to www.youth2000.ie
DIOCESAN DAY ON LOUGH DERG:  Saturday 20th August 2022. Parishioners and their friends from across the diocese are invited to take part in this 1-day pilgrimage. 
DIOCESAN PILGRIMAGE TO KNOCK: This will be led by Bishop Larry Duffy, Bishop of Clogher, on Wednesday 24 August 2022. Given that there will be no pilgrimage to Lourdes this year, this is a wonderful opportunity for people from across the diocese and their friends to make a pilgrimage to the national shrine of Mary here in Ireland. 
CLEANER WANTED: The parish is seeking a cleaner for St Joseph's Parish. Anyone interested, please contact Fr McManus  ​​​​​​​
FASN [Family Addiction Support Network]. We are a Peer-Led support group for Families who are experiencing difficulties due to a loved one's addiction and provide a vast range of different services to suit the family members needs from 1-1 meetings, group meetings to Counselling etc. Peer-support group meeting for Family members impacted by a loved one's addiction behaviour in the IONTAS Centre Monaghan. Contact info.fasn@gmail  or call 042 9355251/087 9046405  for information or to join.
MOTHER AND BABY: The PSNI are currently investigating Mother and Baby Institutions, Magdalene Laundries, and Workhouses between 1922 – 1990. The investigation team are keen to reach as many people as possible but are mindful that the demographic they need to engage most are less likely to use platforms such as social media. Therefore, we are reaching out to partners who may work with individuals or may know someone personally who has been affected. It is vital that anyone affected is given an opportunity to have their story told if that is something they want to do. Anyone wishing to contact the dedicated Mother and Baby Homes and Magdalene Laundries Investigative Team can do so via the following options:Email: MotherBabyHomes.Magdalenelaundries@psni.police.uk Direct line (Mon-Fri 9am-5pm): 02890 901728  Outside of office hours you can call 101 to speak to a call handler from the Police Service of Northern Ireland who will pass on your details to the dedicated investigation team to make direct contact.
BLESSING OF GRAVES 2022:
Pettigo: Sunday 14th August 
Carn @ 2.30pm (Rosary & Blessing) & Pettigo @ 3.00pm (Prayer Service & Blessing) 
A PRAYER BY TELEPHONE: The Sisters of Mercy "Bethany" 34 Point Road, Dundalk 
welcome any person who may wish to request prayer, especially during these difficult times. All requests are confidential. Tel:00353429331602  9am – 9pm Daily. One of the sisters will be happy to Listen and Pray with you.
SYNODAL PATHWAY: The report giving the Diocese of Clogher synthesis of views expressed during the first phase of the listening process has been published and is now available on the homepage of our diocesan website www.clogherdiocese.ie This report has now gone to the national team, and we will be engaging with you and with parishes and groups later in the year as we continue to walk together, prayerfully discerning what God wants of us now and into the future.
THE HUB AT KNOCK SHRINE: Open July & August: Parents – Need some time for yourselves? Welcome to the HUB at Knock Shrine, open through July and August, the HUB offers a range of fun activities for children and young people visiting Knock Shrine. From the ARK kids Club for children aged 5 years and over to our drop-in centre with arts & crafts, prayer, music and much more. Don't miss our Family Day on 21st August, a day for families and children with a range of fun activities, all in the beautiful grounds of Knock Shrine. Learn more about summer fun at the HUB at www.knockshrine.ie or phone us on 094 93 75321.
BENBURB PRIORY host a day conference 2nd Sept on the meaning crisis (rise in suicides, depression, and more) and the Christian way, today. The conference will feature leading Christian thinkers, including Paul Kingsnorth, Paul Vander Klay, and Fr Calvin Robinson. Tickets are available at Benburbpriory.com now. All are welcome.
IRISH SUMMER SCHEME SECONDARY SCHOOL STUDENTS:
Fermanagh and Omagh District Council will run an Irish Summer Scheme for secondary school students in Strule Arts Centre, Omagh on Monday 22nd and Tuesday 23rd August 2022 from 10am-4pm. This will be a free event. For further information please contact gaeilge@fermanaghomagh.com or phone 028 82247831. Places may be booked online at www.struleartscentre.com. 
DEMENTIA CAN HAPPEN TO ANYONE and there is currently no cure. But with the right support, people can live well with dementia. The Oak Healthy Living Centre Welcomes you to an Open Information Morning AROUND DEMENTIA AWARENESS & SUPPORT, Delivered by the Alzheimer's society. 23rd August 2022 10.30AM TO 12.30PM Contact Info@oakhlc.com 028 677 23843 This morning is open to anyone who would like more information & support around dementia. Light Refreshments will be served
TRANSFER TEST preparation for GL and AQE tests in Fermanagh House every Saturday morning in September / October from 9:30am - 11:30am. Children will be taught the topics included in the 2022 tests and complete reinforcement sheets / test papers to support their learning. For more information contact John on 07808523959. 
MURPHY'S ON MAIN STREET is moving forward with flooring having gone down last week.  We are chatting to a potential operator of the tea rooms so we will keep everyone posted about that and we are currently working on the fit out. There will also be an open day and evening for locals in the Autumn apart from any official opening.
In the meantime, the tenants will be moving in in September and we've a few events planned, with Anne Taggart from the ARC Healthy Living Centre running a resilience course starting 7th September (details in the poster on noticeboards in the chapel).
As part of Festival Lough Erne there will be a small event in the new studio (old barn) out the back on Thursday, 15th September at 8pm. This will look at Ederney: Heritage Village and Links to the Lough (tickets are free but must be booked on Eventbrite at the link below). This is an event to share, reminisce and see a presentation on the building and it's development.
https://www.eventbrite.com/e/375841801947
Also, as part of Festival Lough Anne Monaghan is running a Serenity Retreat on Saturday, 17th September from 10-1. Starting with a mindfulness walk the morning will include some relaxation, stress relief, gentle yoga, reiki, reflexology, tapping and other therapies. The event will be held in the community rooms at St. Joseph's Park finishing with lunch in Murphy's. Tickets are £30 each (plus a small booking fee).
Book at https://www.eventbrite.com/e/375862864947
We welcome enquiries about hot desking, co-working spaces, office or desk space or studio hire. Please contact Neil Armstrong on 028 66 251412.
EDERNEY GAA: 
Lotto Jackpot £10,000; 
Monday @ 7pm SFL Ederney v Kinawley. 
Monday @6.30pm Ederney U 13's Ladies away V Maguiresbridge.
Tuesday @ 7pm LSFL Ederney Ladies v Donagh; Thursday at 7pm Oisin McConville visits Ederney with his sporting chance workshop everyone welcome

"IT'S CARDIAC REHAB":A podcast series bringing together experts in cardiac rehab and patients who have attended cardiac rehabilitation. Topics included are  exercise, medication, healthy eating and the psychological impact of living with heart disease. If you have had a cardiovascular event such as a heart attack, coronary artery stenting or coronary artery bypass surgery – log onto https://irishheart.ie/services-for-you/its-cardiac-rehab-podcast/  for information and support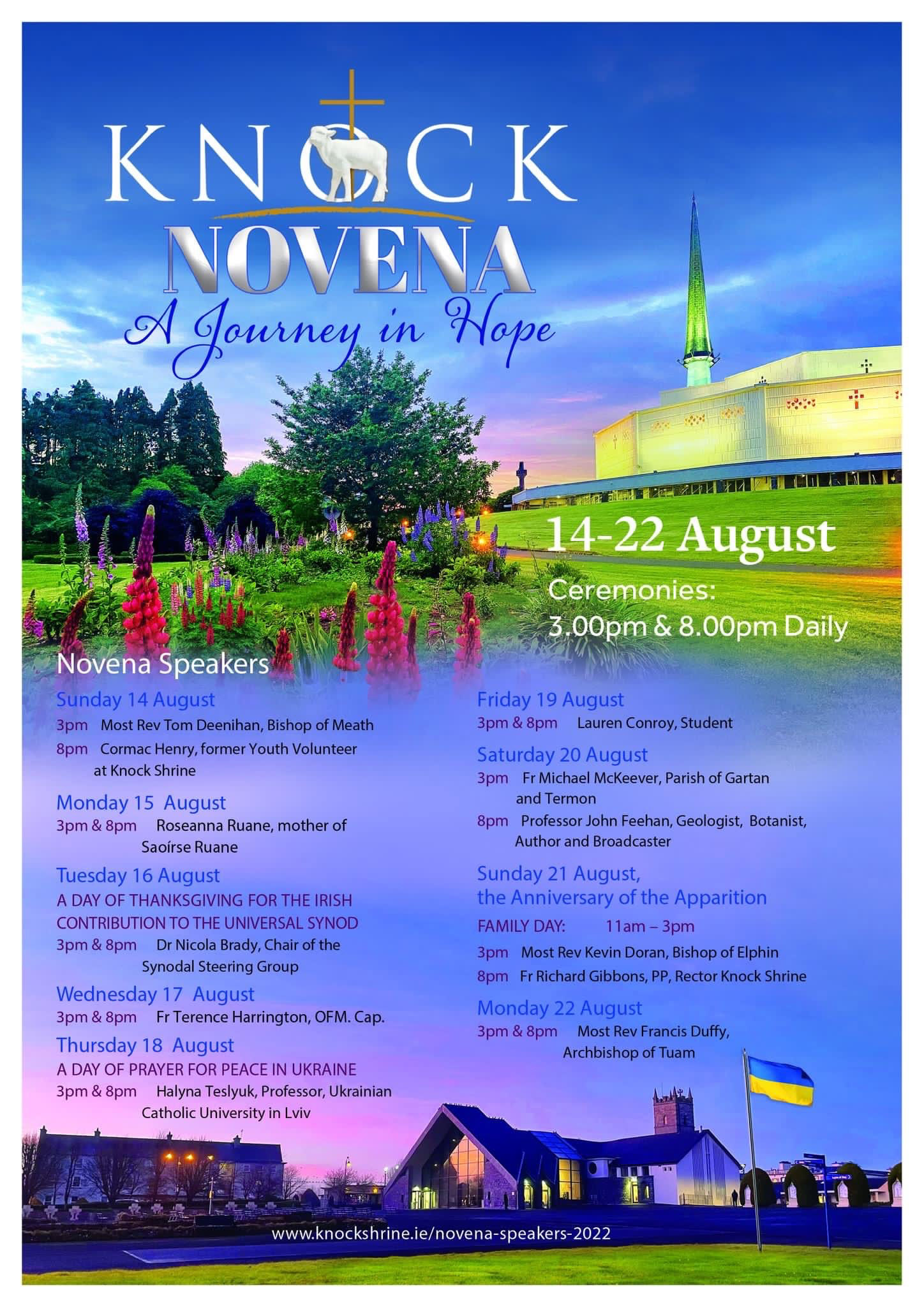 KNOCK NOVENA:14 – 22 August: The National Novena to Our Lady of Knock will take place from 14-22 August, offering nine days of prayer and reflection. Ceremonies are at 3pm and 8pm, and a special candlelight procession will take place after the 8pm ceremonies– weather permitting. The theme for this year's Novena is 'A Journey in Hope' with guest speakers each day. Thursday 18th August will be a special day of prayer for peace in Ukraine, and people from the Ukrainian community in Ireland and host families are invited to attend the ceremonies on this day. Sunday 21st is Family Day from 11am to 3pm with a range of events and activities taking place on the beautiful grounds of Knock Shrine. Full details are available
​​​​​​​
ST PEREGRINE DEVOTIONAL MASS: Takes place on Tuesday nights at 7pm in Lisnaskea and Killanny, Co Monaghan & on Wednesdays at 7.30pm in Derrygonnelly. This Mass is a prayer of intercession for those that are ill. The families of the ill and those who care for them are welcome to attend Mass, a relic of St Peregrine will be venerated. You can also join in on via livestreaming on each parish's websites.
ST JOSEPH'S UPDATES: The sign near the road in front of St Joseph's has been replaced and updated. Thanks to Paul McKenna for the work. Work will soon commence on painting the interior of St Joseph's Parish Centre. Regarding the painting of the interior of the Church - the chosen contractor is not available to carry out the work until October. It is hoped that the work will take place then.  
FORSIGHT ARRIVES IN ENNISKILLEN: 
ForSight is a new chain of charity shops set up in Northern Ireland to fund services for people who are blind or vision impaired and to fund clinical research into sight loss conditions and treatments. Our second shop is now open at 31 Townhall Street in Enniskillen. Pop in and be amazed at the quality of preloved clothes, accessories, and homeware on offer. Shopping in ForSight guarantees helping people who are blind or vision impaired across Northern Ireland as well as helping to save the planet. All donations welcome too. 
BE ALERT: There continues to be fraudulent scams and alerts via telephone calls, emails etc. Please continue to be aware and cautious of any unexpected activity or communication to you and to your vulnerable family members. 
AN IRISH PILGRIMAGE GUIDE TO THE HOLY LAND
is a new book by Michael Kelly, Editor of The Irish Catholic newspaper which explores the places associated with the life of Christ. Michael, who has led many pilgrimages to the Holy Land, says he hopes the book can also act as an 'armchair retreat' for people who cannot travel to the Holy Land bringing the Gospel to life for them. It is available now from all good bookshops and www.columbabooks.comprice €16.
99/£14.9
9
READERS: Representatives from both Montiagh and Ederney let us know that a number of readers have retired in both Churches. We thank these for their generous service over the years. We also appeal for volunteers to read at both Churches. If interested please contact Mena Hegarty and/or John Calgie, Ederney. ​​​​​​​ ​​​​​​​
AN APPEAL FOR FOSTERING PARENTS: 
With an increase in children and young people needing foster homes across Northern Ireland, we really need you now.
Every child deserves to have a happy, loving and safe home where they'll feel cared for, valued and supported.  It's always the right time for fostering. Call us on 0800 0720 137 or contact us on adoptionandfostercare.hscni.net .
#HSCNIFosterCare #FosterForYourCommunity #CouldYouFoster​​​​​​​​​​​​​​

SUPPORT WITH MENTAL HEALTH: 
COVID-19 has impacted on us all; for some bringing new and stressful challenges into our lives for others adding to existing stresses and challenges.  But remember no matter how bad things are for you there is always help available.  Aisling Centre offers a free, confidential and professional counselling service, with a simple self-referral process.  For more information contact 028 66 325811 or email – info@theaislingcentre.com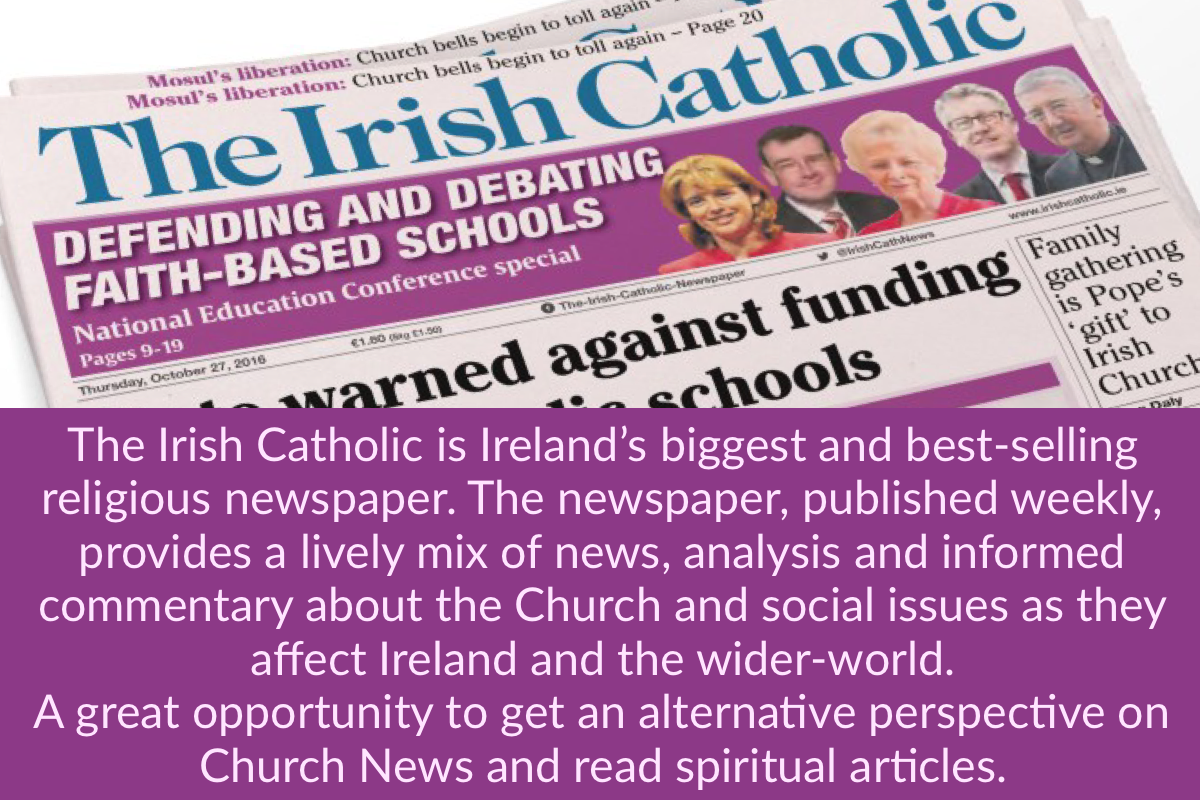 OLD & NEW PERSPECTIVES OF FAITH: Each week the Irish Catholic contains a reflection by Fr Ronald Rolheiser OMI, offering wise perspectives on faith. Sometimes challenging, sometimes consoling but always interesting & worth the price of an Irish Catholic. To read this and other interesting articles Irish Catholics are available in both our Churches, Price: £1.50.  
SUPPORT LINE FOR OLDER PEOPLE: 
COVID 19 HELPLINE: Please call 08088020020 or text ACTION to 81025/email covid19@advice.
COMMUNITY ADVICE FERMANAGH: Are you experiencing difficulty with COVID 19? Please call Community Advice Fermanagh on 073949271.​​​​​​​
AL-ANON: 
Does someone in your family drink too much? Is it making you lonely and unhappy- causing money problems- creating stress? It might be your partner, child or your mother or father. If you want help- if you would like to share your worries with people who understand because they have had them too- why not get in touch with Al-Anon. For details about your nearest group or any other group that may be convenient please call 028 90682368 or 003531 8732699 or google https://www.al-anonuk.org.uk/
WITH YOU has launched an OVER 50s ALCOHOL HELPLINE which provides advice and support to individuals aged over 50, concerned others and professionals who are worried about their own or someone else's drinking.  Furthermore our over 50s Alcohol Helpline continues to offer an enhanced service for individuals who are considering making changes to their alcohol use.  Our enhanced service provision offers callers up to 4 additional appointments during which Helpline alcohol advisors use evidenced based interventions to support callers to achieve their goals.  This service is available 7 days a week .  The Helpline is open Monday to Friday 12pm-8pm and 10am to 4pm at weekends.  The freephone number to call is 0808 801 0750. To make an online booking for a phone call or video chat, over 50's, concerned others and professionals can access appointments slots by visiting the With You website.
​​​​​​​
PRAYER FOR THE PEOPLE OF UKRAINE.  
Loving God, we pray for the people of Ukraine,
For all those suffering or afraid,
that you will be close to them and protect them.
We pray for world leaders,
for compassion, strength, and wisdom to guide their choices.
We pray for the world; that in this moment of crisis,
we may reach out in solidarity
to our brothers and sisters in need.
May we walk in your ways so that peace and justice
become a reality for the people of Ukraine
and for all the world.
Amen. Our Lady, Queen of Peace, pray for us! Our Lady of Kyiv, pray for us!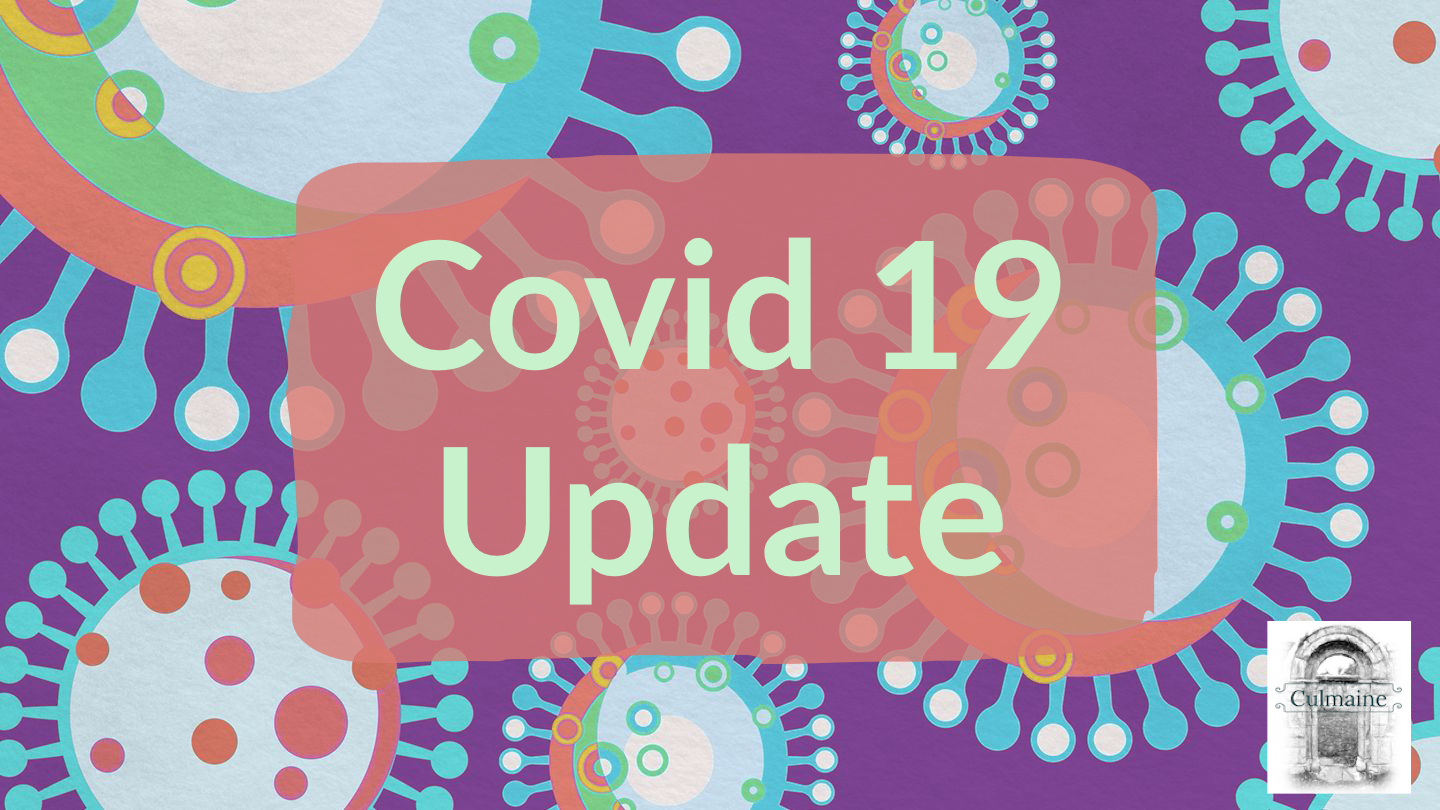 We appreciate our congregation taking the following measures;
These involve keeping your hands washed and sanitized and wearing face masks when in enclosed spaces such as shops and churches. Also avoid where necessary large gatherings and practice social distancing. These especially apply when coming to church. 
Although the Northern Ireland Executive relaxed slightly the rules regarding wearing masks when attending public worship, we still strongly recommend that people wear masks at all times while in Church. 
Finally, we urge those who can but have not yet received a vaccine to do so as soon as possible. The medical and scientific evidence clearly shows that it is generally much safer to have a vaccination than not to have one. 
The Parish Covid 19 Committee met recently and issued the following statement:
We are very grateful to all the volunteers that have helped out in both Churches, which has ensured a safe return to public prayer and worship. We also express our gratitude to the vast majority of people who have and continue to comply with the rules and guidelines that are in place to ensure the safety and health of all who use our Churches. We urge that people continue to vigilant and act with care and responsibility by continuing to observe the following...
On entering and leaving our churches please sanitise your hands.
The legal requirement to wear a face covering in chapels during Mass has been removed. However, our Parish Covid committee strongly recommends that masks are worn throughout the Mass in order to protect yourself and your fellow worshippers. Please remember that it still is a legal requirement to wear a mask when entering or exiting the churches or if you are taking part in any activity that is not an act of worship. 
If a person has flu like symptoms, such as sneezing, coughing, high temperature, etc or has been in close contact with someone who has tested positive to COVID 19 please do not enter the Church until your time of isolation is completed. You can access our masses and services on the parish livestreaming facility which you can find by accessing the parish website, www.culmaine.co.uk and click on livestreaming for either St Joseph's, Ederney or St Patrick's Montiagh.
Please co-operate with the Ushers at all times.
Receiving Holy Communion has reverted to its normal time and place during mass. We ask people when coming for Holy Communion and on returning to your seat please wear a face mask and keep a social distance at all times. 
We finally urge the people of our parish to pray for all victims of Covid 19 and for those who are working so hard to save lives and remedy this very difficult pandemic that is affecting people everywhere on the globe.​​​​​​​​​​​​​​