30th Sunday In Ordinary Time 
Parish Office will remain closed until further notice.
Please call or text  07709 133971 on Saturdays from 10am -1.00pm to reserve a place for Masses on Sundays.
Please wear a face covering when in Church.
Please observe a social distance of at least two metres

​​​​​​​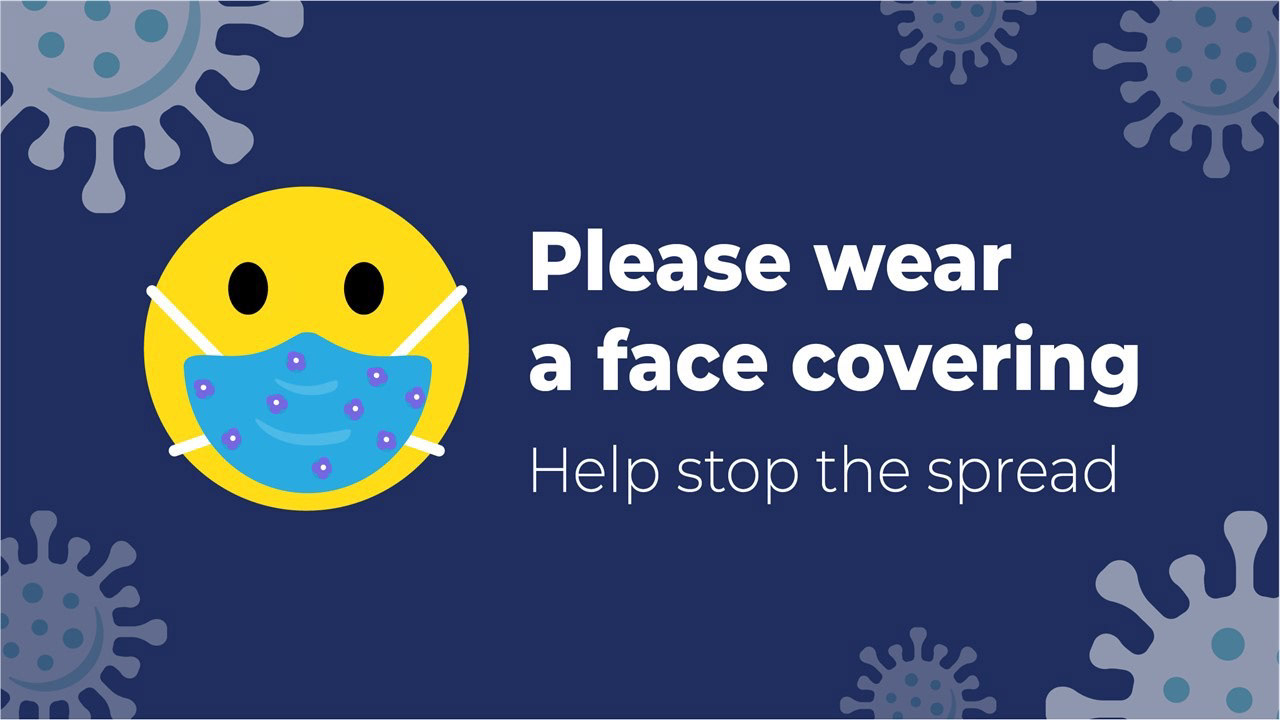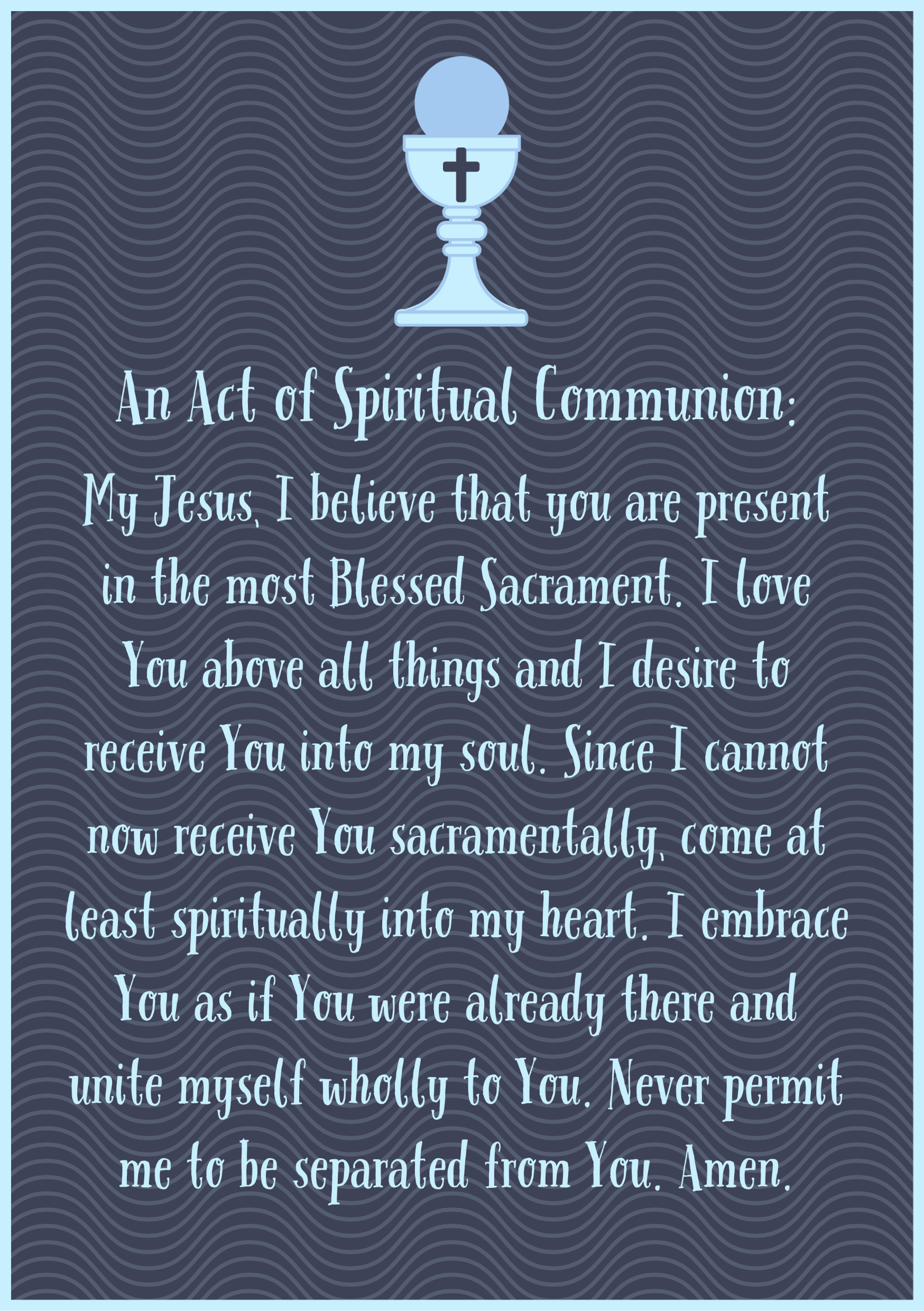 Masses will continue this week on Livestream and parish radio. 
 Or on CB Radio FM Channel 37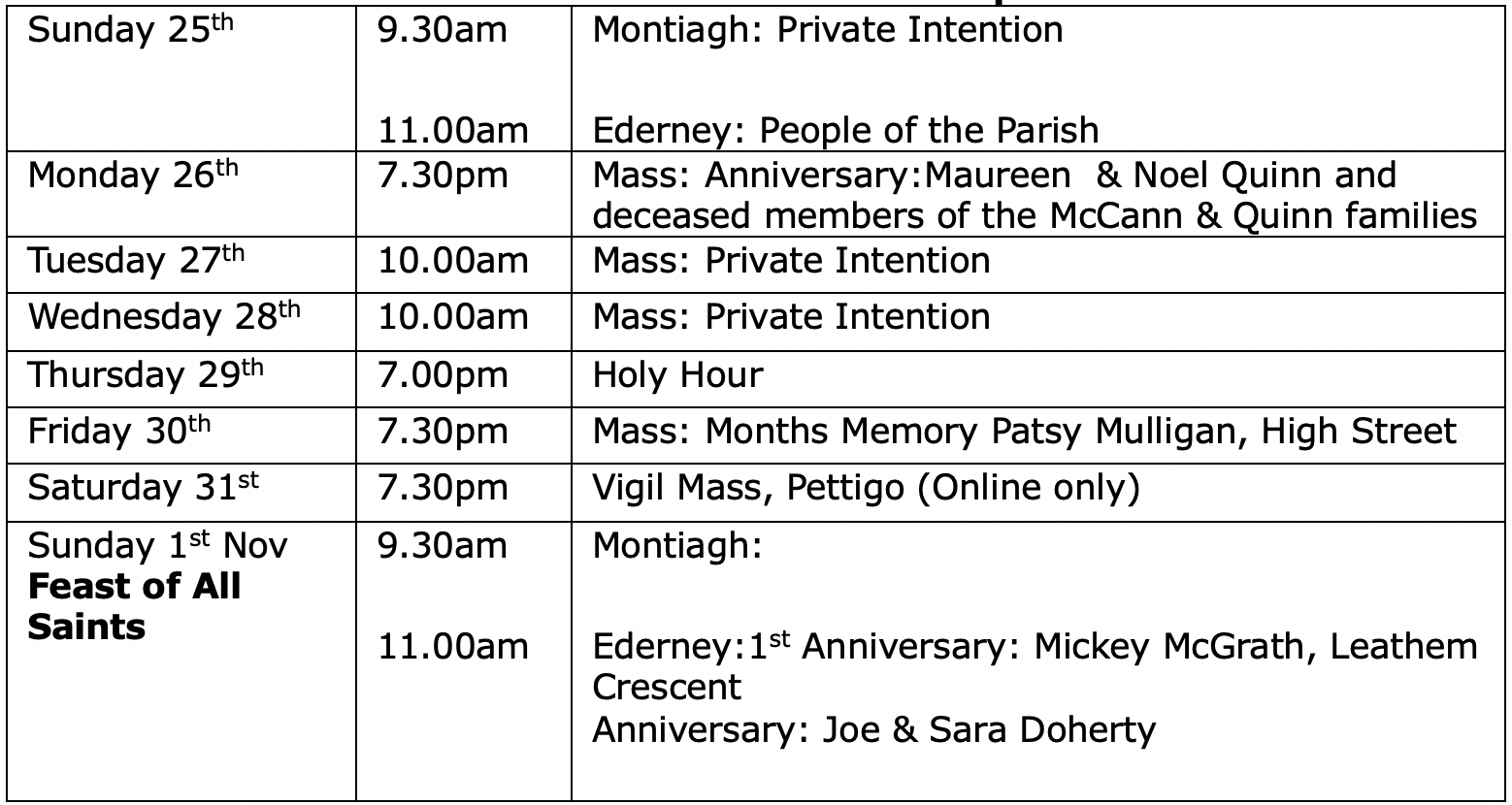 Brigid Gormley, Scraghey (nee Kelly, Clonee)
John McDonagh, Moan's Cross, Brookborough 
May they rest in peace.
​​​​​​​
Sterling: Weekly Collection: £876; Monthly Collection: £260; Propagation of the Faith: £320; Development Fund: £135.
Thanks to all for your contributions. You can make your contributions in the same way this weekend by leaving your them in the letterbox in the Parish Centre on either Sunday morning or afternoon or on Monday evening. This is the safest way because the Parish Centre has both an alarm that is always active when there is no-one in the building and CCTV cameras covering all approaches to the Centre, especially the front door. The basket attached to the inside of the letterbox will be   regularly checked and all donations will be immediately moved to the safe where they will be kept until they are counted and banked. 
Please do not leave any contributions in the Church or in the Priest's House. 
Mission Sunday – Thank You! Thanks for the envelopes returned as part of the World Missions Collection for Mission Sunday last weekend. There is still time to make your contribution to this much needed cause. You may do so through the parish envelopes. You can also contribute via the iDonate function on the homepage of www.clogherdiocese.ie and then choosing the cause or fund "World Missions / Propagation of the Faith". Thanks once again for your support. "Together we can do more"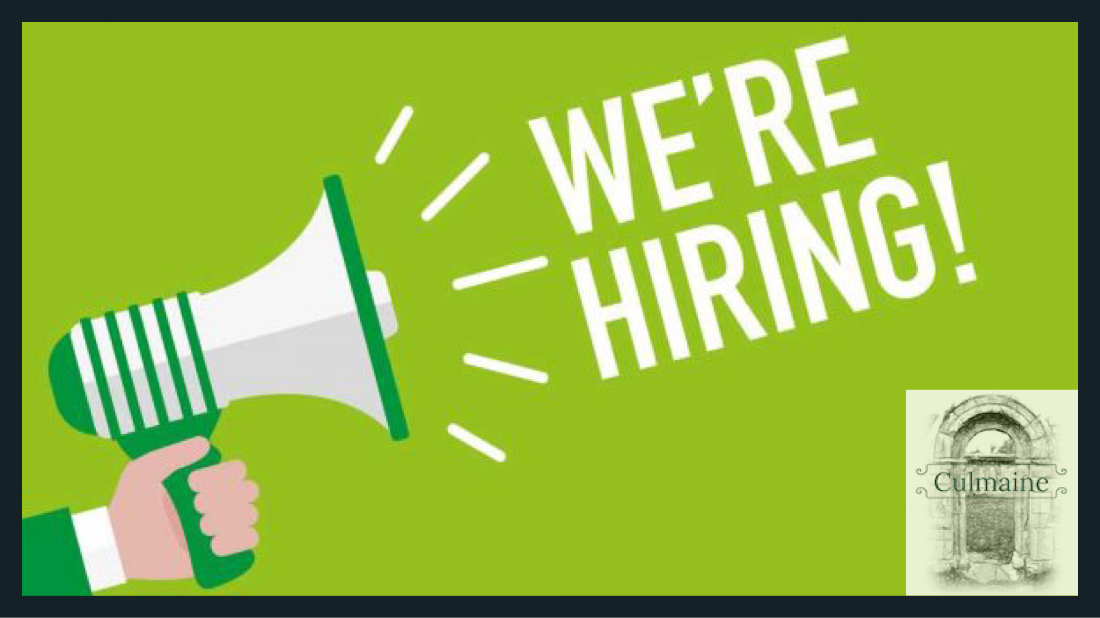 Vacancy for Parish Secretary
The Parish of Culmaine are currently recruiting a Parish Secretary. This will be subject to a six month probationary period, with a view to a permanent appointment at the end of this period. Initially this post is for 10 hours per week. 
Reporting to the Parish Priest, duties include 
(1) Working as part of a team to provide an administrative service to the parish.
(2) Managing the Parish Office with the effective use of up to date office systems.
(3) Receiving members of the public and dealing with enquiries.
(4) Maintaining computerised accounts for the parish.
(5) Recording and managing parish records.
(6) Responsible for payroll function. 
The successful candidate will have to have 3 years clerical/administrative experience.
Up to date computer skills.
Good interpersonal skills and an ability to communicate and work as part of a team.
Financial administration knowledge essential
Knowledge of website updating is desirable. (Training can be provided.)
Will have to vetted in relation to safeguarding children and vulnerable adults.
Letters of application with enclosed curriculum vitae, along with names & addresses of two referees marked "Application for Parish Secretary" should be posted to Fr Frank Mc Manus, 19 Ardvarney Road, Ederney BT93 0EG
Closing date for Application 5pm on Friday 30th October 2020.
Vacancy for Parish Sacristan, with cleaning duties
The Parish of Culmaine is currently recruiting a Parish Sacristan, with cleaning duties. This role will be subject to a six month probationary period with a view to a permanent appointment at the end of this period. The post is for 15 hours per week, with flexibility to meet the needs of the Parish.
Duties of the post include:
(1) Opening & closing St Joseph's Church each day
(2) Preparing the altar for Mass & other Services
(3) Preparing vestments & lectionary for each Mass or Religious Celebration
(4) Preparing all Liturgical Items for funerals & other services
(5) Maintaining the necessary standards of hygiene on the altar, in the sacristy & throughout the Church, including washing altar cloths in line with Covid 19 Government guidance
(6) Ensuring availability of adequate supplies of altar requisites including communion bread, candles, charcoal, sanitisers & cleaning equipment.
(7) Liaising with the Parish Priest regarding the training & availability of altar servers (post Covid19)
The successful candidate will have knowledge & experience of church ceremonies
good interpersonal skills, ability to use own initiative & ability to work effectively as a member of a team and be flexible in their approach to the requirements of the post.
He/she will have to vetted in relation to safeguarding children and vulnerable adults.
Letters of application with enclosed curriculum vitae, along with names & addresses of two referees marked "Application for Parish Sacristan" should be posted to Fr Frank Mc Manus, 19 Ardvarney Road, Ederney BT93 0EG
Closing date for Application 5pm on Friday 30th October 2020.
Service of Prayer & Remembrance for The Dead: 
At 3pm next Sunday, 1st November, the Catholic Church in Ireland calls all of us to prayer as we join in remembering our dead. This will be a national communal prayer service of remembrance, lasting for about 15 minutes, and will be celebrated online from the Cathedral, led by Bishop Duffy, and in a church in each parish. In this parish, the service will be celebrated online via Culmaine Livestream.
Mass For Deceased Lourdes Pilgrims will be celebrated in St Patrick's Church, Clogher at 8pm on Friday 6 November via the www.lourdes2clogher.com website or the Diocese of Clogher Facebook page. If you wish to have the name of a loved one remembered in this Mass, please log on to www.lourdes2clogher.com and follow the directions. Our Lady of Lourdes pray for us! 
  Culmaine Remembrance Prayer Service: 
Friday 13th November @ 7.30pm. This service will be taking place under Covid 19 Restrictions. Because we want to be able to accommodate all bereaved families, we are asking that all families nominate two representatives to attend the service in the Church. The Service will be available via Live-streaming in the same way that Sunday masses are available.
_________________________________________________________
  With this year being a little different in how we mark many of our occasions it is planned to create a page on our website as a kind of Digital Remembrance area during the month of November. 
  People can post their list of names of loved ones whom they wish to remember in the designated boxes in the two Churches or alternatively you can email your list to Fr McManus on culmaine@gmail.com
  If you would like a photo or memorial card to be included on our website feel free to post one in an envelope along with your list in either Church. They will be made available for you to collect again when they have been scanned for uploading to the website.
________________________________________________________________
Covid 19 Coronavirus Restrictions
Following the recent announcement from the NI Executive only 25 people can attend a funeral. In all cases priority will be given the family and relatives of the deceased.  In all cases a full Mass can be offered at a later date, when all the Coronavirus restrictions have been lifted. 
Because of the social distancing requirements and best practice it is only possible to cater for one child per ceremony. Baptisms will now take place for the time being at 5pm on Saturdays. The full baptism ceremony will take place in the area close to the Baptismal Font. Only the parents, Godparents and close family members can attend for the time being. Families must provide at least one person to help sanitize this area afterwards.
There have been no changes regarding public prayer and liturgies in Churches, except that the wearing of face covering is now mandatory. 😷
Churches will continue to be open for personal prayer from 10.30am- 6.00pm. Please stay in the area of the Church that is reserved for personal prayer.
For full details regarding attending Mass and other Church Services please click on the link below;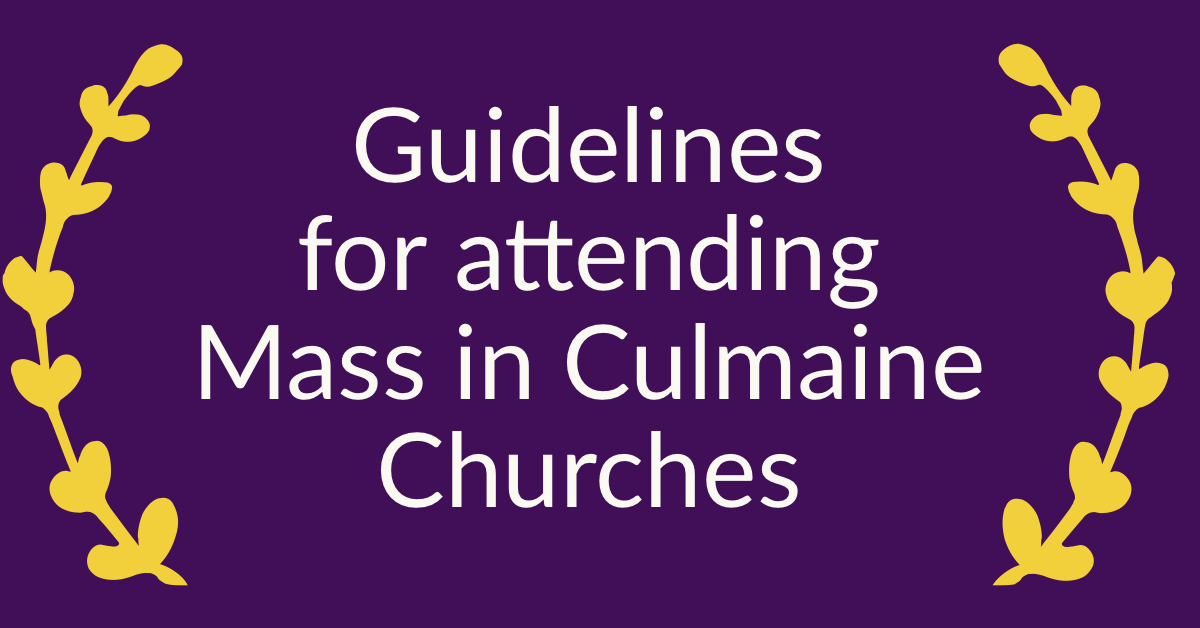 Because of the latest Covid 19 Restrictions it will not be possible for the time being for Fr McManus to bring Holy Communion to the sick and housebound. Instead Fr McManus will telephone the sick and housebound and offer to say a prayer with them and give them a blessing. Fr McManus will still cover emergencies.
LOURDES2CLOGHER ROSARY DURING MONTH OF OCTOBER: At 8pm on every Friday in October, the Month of the Rosary, there will be a short video reflection on and the recitation of the Sorrowful Mysteries of the Rosary from a church in the diocese. This can be accessed via the Diocese of Clogher Facebook Page and on www.lourdes2clogher.com.
Family Rosary Crusade against Covid during October – you are encouraged to pray the Rosary, or even a decade of the Rosary, each day during the month of October. Pray for your own family and loved ones and for all those whose health or livelihood is being seriously impacted by the coronavirus crisis. Don't be afraid to share your prayer on Facebook and tag your local parish, using the #FamilyRosaryCrusade hashtag. 
____________________________________________________________
Fermanagh and Omagh District Council Irish language activities continue online and can still be joined: Irish language classes Wednesday and Thursday evenings. Singing in Irish class/circle Thursday 5:45pm-6:45pm. Irish conversation circle Friday 1pm-2pm.
Street/road signage in Irish can be provided for residents in district by FODC in the case of the consent necessary having been given by inhabitants.  More information on this and events above available from 
culture@fermanaghomagh.com
Ederney GAA: Our Lotto Jackpot is £6,300 Envelopes available from Monaghan's Mace or any committee members. 
Club Merchandise for Christmas Ederney GAA have teamed up with MFC Sportswear Dromore;  View the full range of Ederney Gear and place your order at the link https://link.mfc-sports.com/teamwear/code/PNZBHW To ensure delivery for Christmas the online shop will only be open until midnight on Saturday 31st October. 
Last Man Standing; win £300. 
__________________________________________________________________________________________________________________________________
Information on Attending Masses and other Church Services during the Covid 19 Coronavirus Pandemic
Over the past weeks there has been an increased in the infection rate of the Covid 19 Coronavirus in many parts of the country. It is absolutely vital that we continue to observe the rules and guidelines that we have been given by our health authorities to ensure the safety of all. 
Because of this may we remind you about some of the restrictions regarding attending Church Services. 
People are released from their normal obligation to attend Sunday Mass. People can access Mass from the speakers out the Churches or via Livestream in Ederney.
There are 65 places available in St Joseph's, Ederney and 18 places in St Patrick's, Montiagh. One place can cater for one person or for two people provide they live in the same household. One family can occupy one seat, provided that all live in the same household. 
People can book a place for Sunday Masses by calling the parish office between 10am & 1.00pm on Saturdays. We strongly urge people to do this as it makes things much easier for the Ushers on Sunday mornings. 
When in the Church please follow the directions of the Ushers who will show you to the place allocated for you.  Please enter the Church through the front doors and at the end leave by the side doors.  
Please, observe at all times social distancing of 2 metres apart and the wearing some form of face covering is now mandatory. 
If you use a missalette, please make sure that you do not leave it in the Church.
In order to reduce movement in the Church Holy Communion will be given at the end of Mass. Once you have received Holy Communion please leave immediately. 
We ask that there be no congregating in the Church car parks before or after Masses. 
We thank all for your co-operation and hope that all keep safe and well.  
Reserving a Place in Church: New Number 

-

0773 133971

 for reserving a place in Church on Sundays. Please call or text on Saturdays between 10.00am and 1.00pm
Ederney Community Support Initiative Re Corona Virus Emergency: 
For anyone self- isolating or needing deliveries one point of contact number has been set up - 07515561981 - with a Rota operating. 
Please note deliveries will be made after 4pm each day. 
If that the number is not answered please contact the following: 
St Vincent de Paul– 07864726536 or Fr McManus (028)686 31315.
COVID-19 Support Line for Older People: ALONE manage a national support line and additional supports for older people who have concerns or are facing difficulties relating to the outbreak of COVID-19 (Coronavirus). Professional staff are available to answer queries and give advice and reassurance where necessary. The support line is open seven days a week, 8am - 8pm, by calling 0818 222 024.