Fr Frank McManus PP Tel: 028 686 31315
email: culmaine@gmail.com
Parish Office Tel: 028 686 29062
18th Sunday in Ordinary Time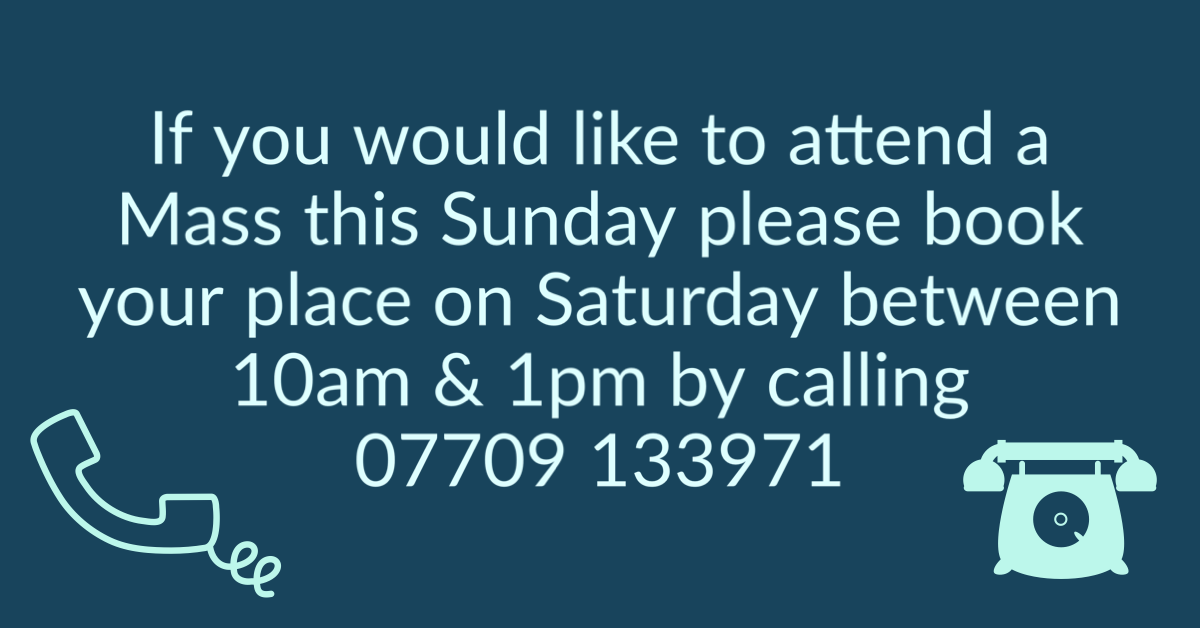 Please wear a face covering when in Church.
Please observe a social distance of at least two metres.
​​​​​​​
Please call or text 07709 133971 on Saturdays from 10am-1.00pm to reserve a place for Masses on Sundays
​​​​​​​​​​​​​​
If you are remaining at home you can j
oin Fr McManus this week at the times outlined below on Livestream or listen on Parish Radio CB Channel 37 if you are local.
​​​​​​​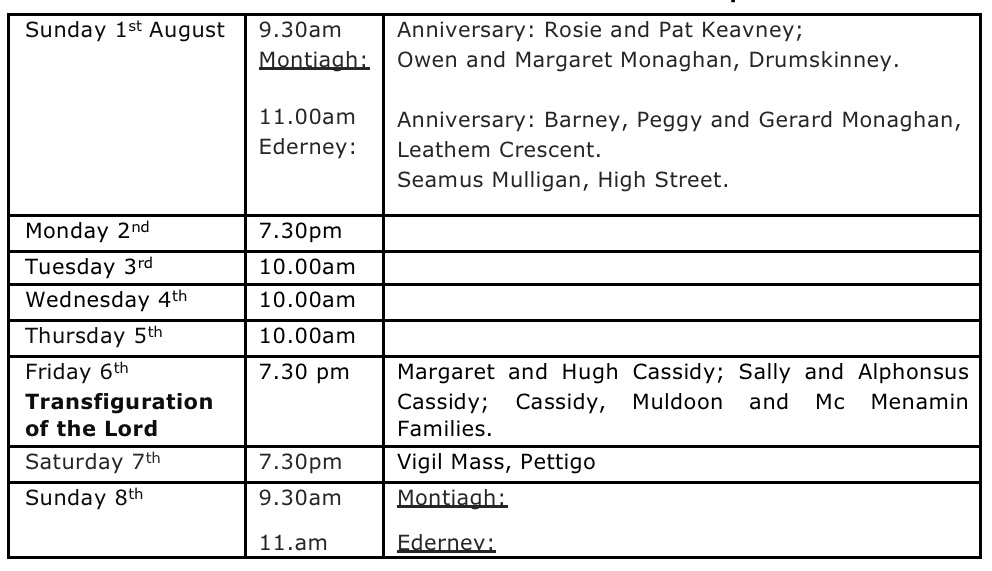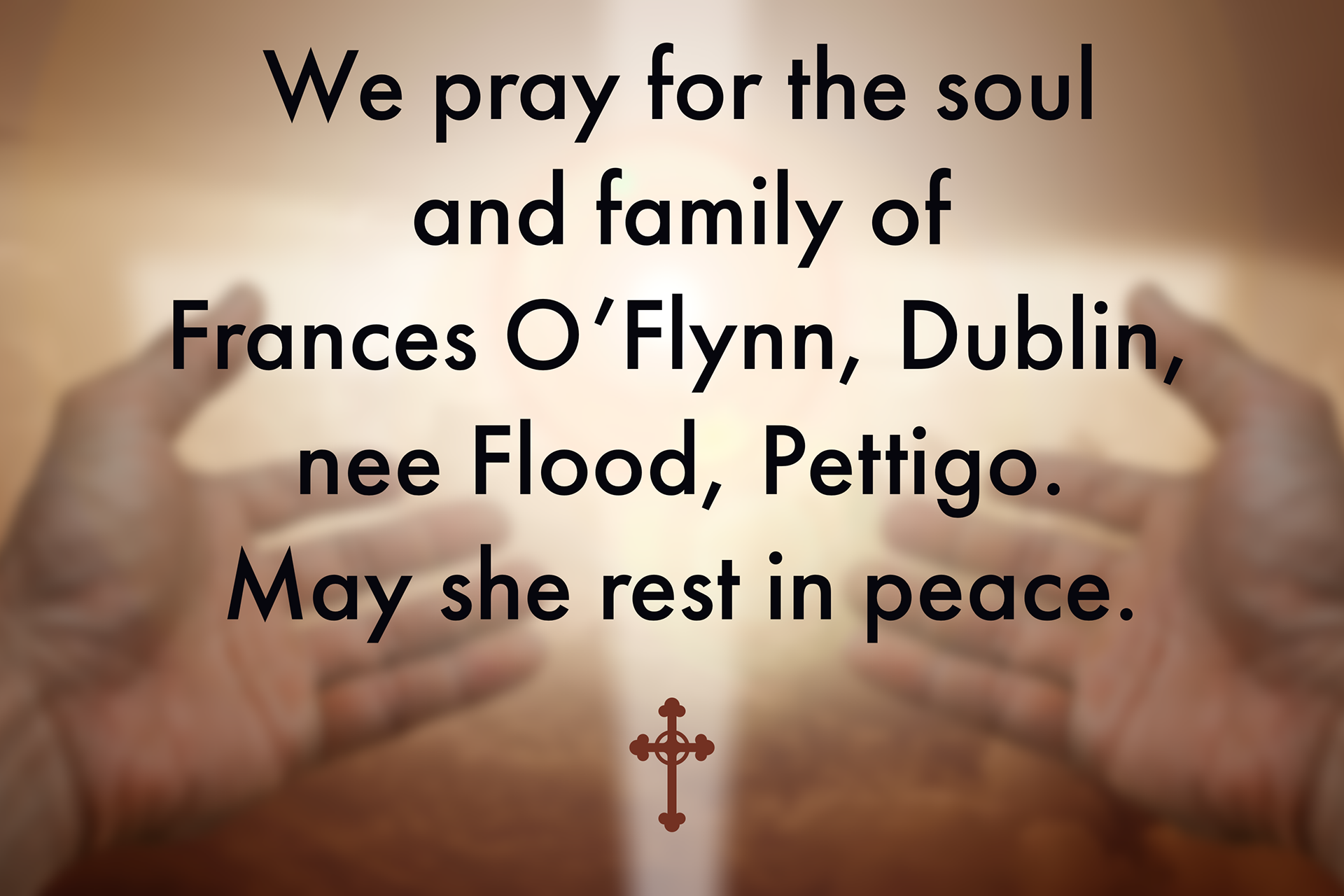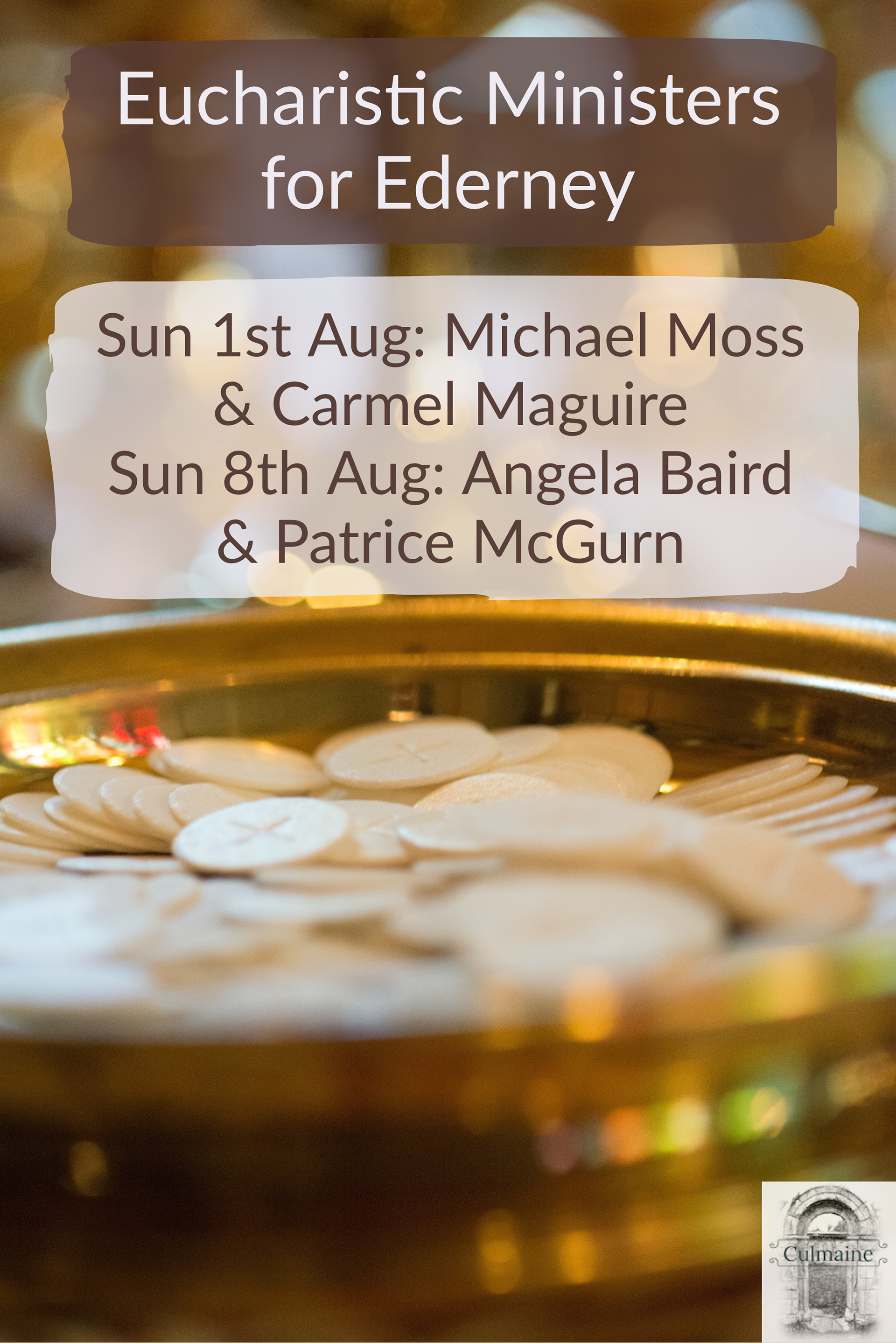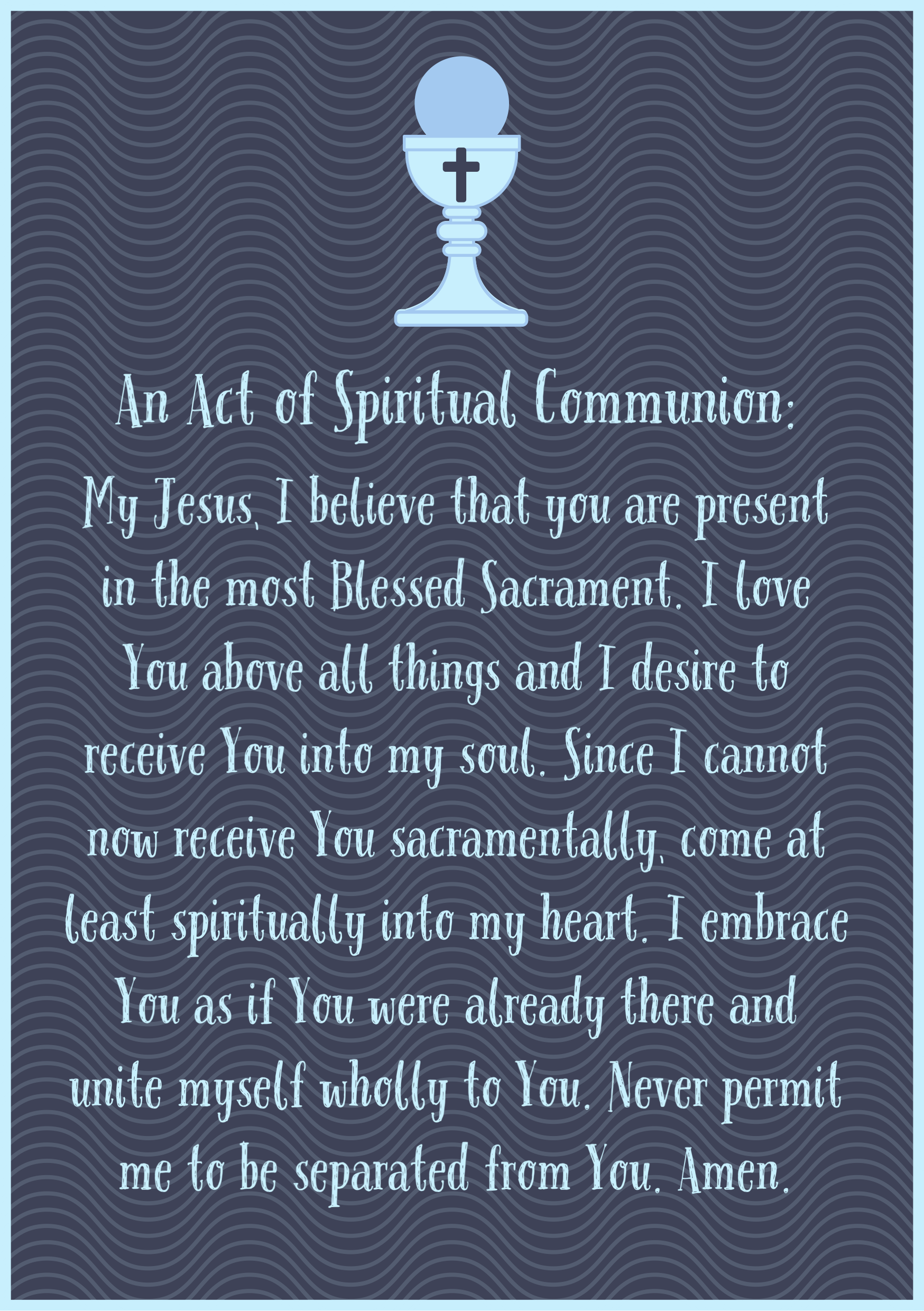 It is still possible for families to have anniversary masses, people can either attend physical inside the Church, listen outside or join via livestreaming. People can book in the usual way in the diary which is left on the altar rails or by using the parish email, culmaine@gmail.com
LIVESTREAMING OF MASSES: 
 There were some responses to the invitation to comment regarding the quality of reception of our live streaming of masses and other services from both churches. It appears that the quality has improved but if there are still any problems, please contact Fr McManus or Paul Mongan. 
MISSALETTES & PARISH BULLETINS: Could people attending mass or visiting the church who are using missalettes and Bulletins please take them with you and dispose of them. Leaving them in the Churches could be dangerous in this time of pandemic.
REOPENING OF CHURCHES AND PLACES OF WORSHIP FOR PUBLIC PRAYER
We are very happy that our Churches are again open for public prayer and worship. To enable all to gather safely and to help ensure that further progress can be made against the Covid 19 Coronavirus pandemic we ask all using our Churches to observe the protocols detailed on the link below:
​​​​​​​
PARISH TOGETHER MEETING: This will take place on Monday 2nd August at 8pm.
ACCORD CATHOLIC MARRIAGE CARE SERVICE CLG: is currently recruiting volunteers to train as marriage preparation programme facilitators.  Accord is seeking registration of interest from those who have a positive attitude towards marriage in the Catholic Church and the enthusiasm to be part of a team supporting couples who are preparing for the Sacrament of Marriage.  Successful applicants will receive professional training and will be part of a team delivering marriage preparation programmes locally in accordance with best practice.  Contact Aisling on 01 505 3112 or by email to info@accord.ie.  The closing date for receipt of registration of interest forms to be included in Selections for this year is Friday 27th August.  Additional information is available on www.accord.ie
Weekly: £985; Monthly: £145; Development £385. 
Thank you for all your contributions. 
You can make your contributions in the same way this weekend by leaving them in the Baskets near the entrance and exit doors of the Churches or in the letterbox in the Parish Centre on either Sunday morning or afternoon or on Monday. This is the safest way because the Parish Centre has both an alarm that is always active when there is no-one in the building and CCTV cameras covering all approaches to the Centre, especially the front door. The basket attached to the inside of the letterbox will be regularly checked and all donations will be immediately moved to the safe where they will be kept until they are counted and banked. Please do not leave any contributions in the Church or in the Priest's House.
​​​​​​​
DONATING TO PARISH AND CHURCH FUNDS: 
We ask people to use the different colours of the envelopes as much as possible as these are for different funds. Putting all the money into one envelope means that money has to be allocated only to the fund indicated on the envelope.  If anyone has not got a box of envelopes or is new to the parish, please contact Fr McManus. All sterling cheques must be made payable to either Culmaine Parish Church Covenant Account or Culmaine Parish Church Development Account. If you wish to donate to a specific fund such as Trocaire please write the name of the fund on the back of the cheque. Please make Euro cheques payable to Culmaine Parish Account.
​​​​​​​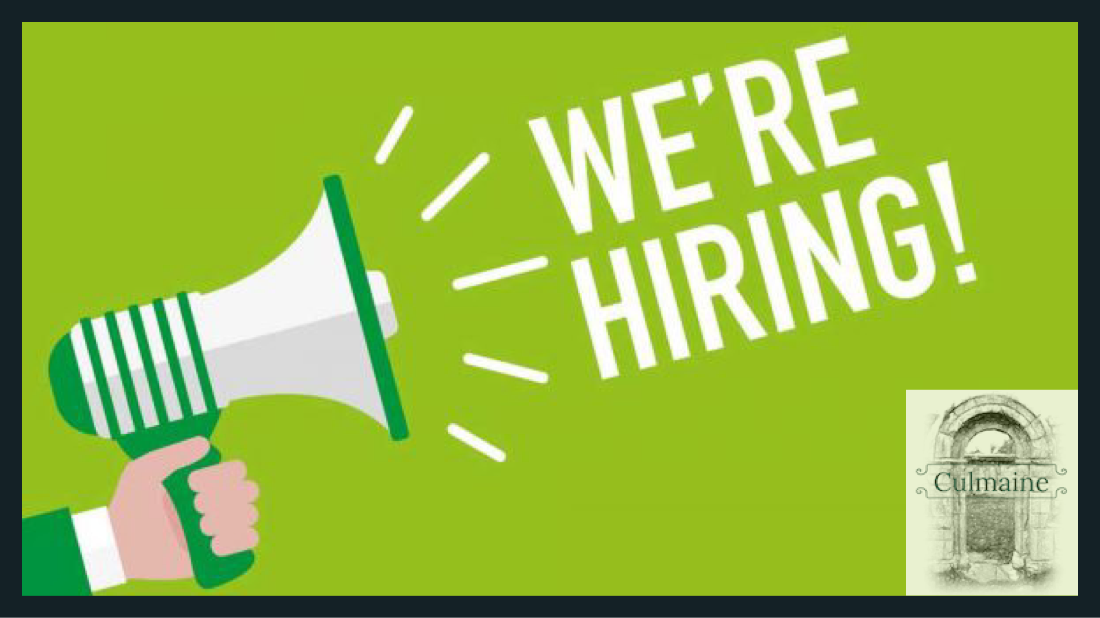 Vacancy for Parish Sacristan, with cleaning duties
The Parish of Culmaine is currently recruiting a Parish Sacristan, with cleaning duties. This role will be subject to a six month probationary period with a view to a permanent appointment at the end of this period. The post is for 20 hours per week, with flexibility to meet the needs of the Parish.
Duties of the post include:
(1) Opening & closing St Joseph's Church each day
(2) Preparing the altar for Mass & other Services
(3) Preparing vestments & lectionary for each Mass or Religious Celebration
(4) Preparing all Liturgical Items for funerals & other services
(5) Maintaining the necessary standards of hygiene on the altar, in the sacristy & throughout the Church, including washing altar cloths in line with Covid 19 Government guidance
(6) Ensuring availability of adequate supplies of altar requisites including communion bread, candles, charcoal, sanitisers & cleaning equipment.
(7) Liaising with the Parish Priest regarding the training & availability of altar servers (post Covid19)
The successful candidate will have knowledge & experience of church ceremonies, 
good interpersonal skills, ability to use own initiative & ability to work effectively as a member of a team and be flexible in their approach to the requirements of the post.
He/she will have to vetted in relation to safeguarding children and vulnerable adults.
Letters of application with enclosed curriculum vitae, along with names & addresses of two referees marked "Application for Parish Sacristan" should be posted to 
Fr Frank Mc Manus, 19 Ardvarney Road, Ederney BT93 0EG
Closing date for Application; 5pm on Friday 13th August 2021.
LOUGH DERG 2021: 
The Lough Derg Pilgrim Path on the lough shore is now open daily.  The full route is a 12km loop, with a shorter 8km option and several information boards highlight features of particular interest.  Leaflets are available at the Visitors Centre.  
SAINT VINCENT DE PAUL: Helpline no 07864726536.
SUPPORT LINE FOR OLDER PEOPLE: 
COVID 19 HELPLINE: Please call 08088020020 or text ACTION to 81025/email covid19@advice.​​​​​​​
COMMUNITY ADVICE FERMANAGH: Are you experiencing difficulty with COVID 19? Please call Community Advice Fermanagh on 073949271.​​​​​​​​​​​​​​
MARION PILGRIMAGES: The schedule has been released for 2021 & 2022 to Lourdes, Medjugorje, Fatima, Italy & Holy Land.  For more information or to register your interest please visit  www.marian.ie or ring Marian pilgrimages on (01) 8788159.
AL-ANON: Does someone in your family drink too much? Is it making you lonely and unhappy- causing money problems- creating stress? It might be your partner, child or your mother or father. If you want help- if you would like to share your worries with people who understand because they have had them too- why not get in touch with Al-Anon. For details about your nearest group or any other group that may be convenient please call 028 90682368 or 003531 8732699 or google https://www.al-anonuk.org.uk/
LAKELAND LOCKDOWN REFLECTIONS BY DEACON MARTIN DONNELLY: During Lockdown, Deacon Martin Donnelly wrote a number of reflections.  These show Martin's "Ignatian" ability to find and communicate with God in strange times of anxiety and uncertainty.  What is unique about this book is that Rev. Martin brings his experience of being a married deacon to bear on the reflections he wrote during Lockdown 2020.  Being a married deacon is a new ministry in the Irish Church and Martin gives an insight into his formation, his prayer and his ministry.  Books are available for sale £10 at Enniskillen Parish Shop and Parish Office, the Parish Offices in Monaghan, Castleblayney, Carrickmacross as well as through Lough Derg bookshop , Amazon, Foyles, Waterstones and Shanway Press.
THERE IS ALWAYS HOPE: This is a virtual program of well-being. Tickets can be booked via Eventbrite. For further information visit
www.theaislingcentre.com or contact Aisling Centre on 02866325811.
​​​​​​​
DIPLOMA IN PASTORAL THEOLOGY: Drumalis Retreat Centre, Larne, Co Antrim- in association with St Patrick's Pontifical College, Maynooth invites applications for a 2-year, part-time, intensive course beginning in September 2021. For Further information go to www,drumalis.co.uk or email maura@drumalis.co.uk or telephone Drumalis during office hours, 028 (048 from ROI) 28272196.
ST ANGELA'S COLLEGE SLIGO: The college is offering a new online MA (Religious Education and Social Justice) for September 2021.  Please visit www.stangelas.nuigalway.ie for more information.
​​​​​​​
Under 11.5 Hurling today @ 6.30 Ederney V Derrylin.  
Mc Hugh Fuels are our principal sponsor for the 40 by 40 walk!!  There will be groups walking each Wednesday night at 7.30 at the football field to try and get the miles in !!  Please feel free to come along .  If you would like to complete the sponsored walk or joun our team of business event sponsors, click on https://ederneystjosephs.co.uk/ for information or contact any committee member for details.  
Well done to  clubmen Aidan Gilroy Fermanagh Minor Manager and Ederney's Lughaidh Donnelly, Coa's Caolite Farry and all the Fermanagh Management team and players on their win over Cavan and can look forward to a semi V Tyrone on Friday.
Congratulations to Fermanagh Minor Ladies who have reached the Ulster Final and now play Derry.  

JOIN OUR 40 FOR 40 CHALLENGE: We are asking all our members to help out with our fund raising Sponsor walk. Commemorating 40 years since the club did a sponsored walk to Croke Park.
Let us know if you can walk 40 miles between now and 23rd August and raise some sponsorship. We'd really like you to help by doing the sponsored walk or joining our team of business event sponsors.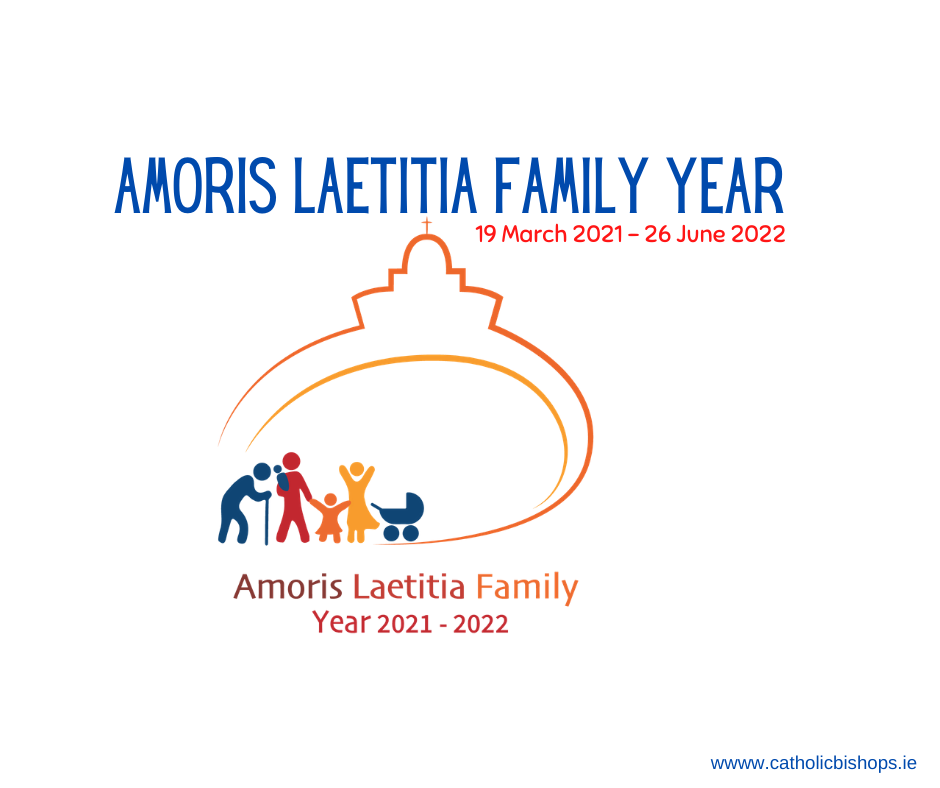 On 19 March 2021, the Church  celebrated five years since the publication of Pope Francis' Apostolic Exhortation Amoris Laetitia (The Joy of Love) on the beauty and joy of love in the family.
On that day, Pope Francis  launched a year dedicated to the family which will conclude on 26 June 2022 on the occasion of the Tenth World Meeting of Families in Rome. 
​​​​​​​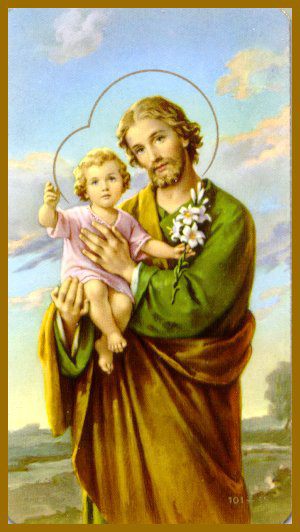 On the 8th December, to mark the 150th anniversary of the proclamation of St Joseph as Patron of the Church, Pope Francis in an Apostolic Letter Patris Corde (With a Father's Heart) proclaimed a Year of St Joseph, to conclude on 8 December 2021. 
St Joseph has been placed in its former position, in the Baptistry and people can come and make a prayer before the statue. Remember when you pray before the statue please do not touch the statue because of the dangers of the corona virus.  Later in the year we will have a special day dedicated to St Joseph is our patron.
​​​​​​​